Stamp collecting has been a popular hobby for almost as long as stamps have been around. The technical term for this hobby is philately which sees enthusiasts study and collect rare and interesting postal stamps.
The transitory nature of postal stamps sees many discarded on envelopes without a second thought by those who receive them. This leads to many stamps becoming extremely rare and, therefore, valuable to collectors. But which stamps are the most valuable today?
What determines the value of a postage stamp?
There are several key factors which impact the value of a postage stamp. These are:
The country of origin

The image on the face

The monetary value or denomination

The perforation on the edges
Often, the most valuable stamps are those which feature misprints or errors. This is because these tend to be rarer as the mistakes are usually quickly picked up with affected stamps being removed from circulation.
The most valuable stamps ever sold
The most valuable stamp ever sold was the British Guiana 1c Magenta, 1856, which fetched a staggering $9.48 million. This extremely scarce stamp was printed in the former British Guiana, now the independent nation of Guyana. An initial shipment of this stamp went missing, which resulted in an emergency run being produced. A small boat was added by the printers of the emergency run, which can be seen faintly on the stamp's face under the signature of the postal clerk. Only one copy of this emergency print run is known to exist, making it so valuable and becoming the most expensive stamp in the world.
Another of the most valuable stamps ever sold is the Treskilling Yellow, 1855, which fetched a massive $2.6 Million. This stamp gains its rarity from being a colour error of one of the first stamps ever issued in Sweden. Usually printed in a blue-green colour, the Treskilling Yellow resulted from a printing error which circulated briefly in the 1850s. Only one of its kind is known to have survived, which has led to it being extremely desirable to collectors.
Tied for second place with the Treskilling Yellow, at a value of $2.6 million, is the Sicilian Error of Colour 1859. This stamp is known for being in remarkably good condition for a stamp of its age and is distinctive for being misprinted in blue when it was meant to be yellow. Just two copies of this stamp are known to exist today, one of which previously held the title of the most valuable stamp until being overtaken by the British Guiana 1c Magenta. In fourth place is the Baden 9 Kreuzer Error, 1851, which was last sold for 1.31 million euros. This stamp was one of the first issued by the former German state of Baden and what was meant to be a 6 was misprinted as a 9. Just four copies of this stamp are known to exist today.
The final stamp on our list is the Inverted Jenny, 1918, which fetched a respectable $1.35 million the last time it was sold. This is quite possibly the most famous rare stamp from the US and is a misprint of a stamp featuring one of the Jenny biplanes, which were first used to carry mail by the US Post Office. When the plane was accidentally printed upside down, a rare and desirable stamp was created. There are thought to be 100 of the originals in circulation. However, several million commemorative versions were produced by the US Post Office in 2014, with the exciting addition of 100 non-inverted sheets being created as a tribute to the original misprint. These non-inverted versions have become desirable collector items, with some known to have been sold for as much as $50,000, proving that stamps don't have to be old to be valuable!
If you're a keen stamp collector, you can find many exciting stamps in our upcoming lots. Here are a few examples:
This BC QV-KGV M/U coln in SG Imperial album first edition, incl Australia 1913 Kangaroo issues is Lot No 1 in the Warwick & Warwick Ltd Sale on 3rd May 2023
BRITISH COMMONWEALTH 1840-1935 fantastic U collection in two boxed New Imperial albums incl. Vol. I is Lot No 101 in the Corbitts LTD sale on 4th May 2023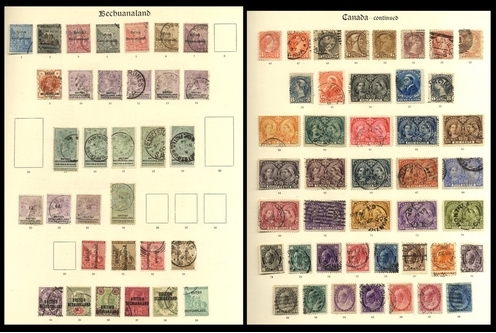 You can search for more incredible stamps from our auctioneers here.