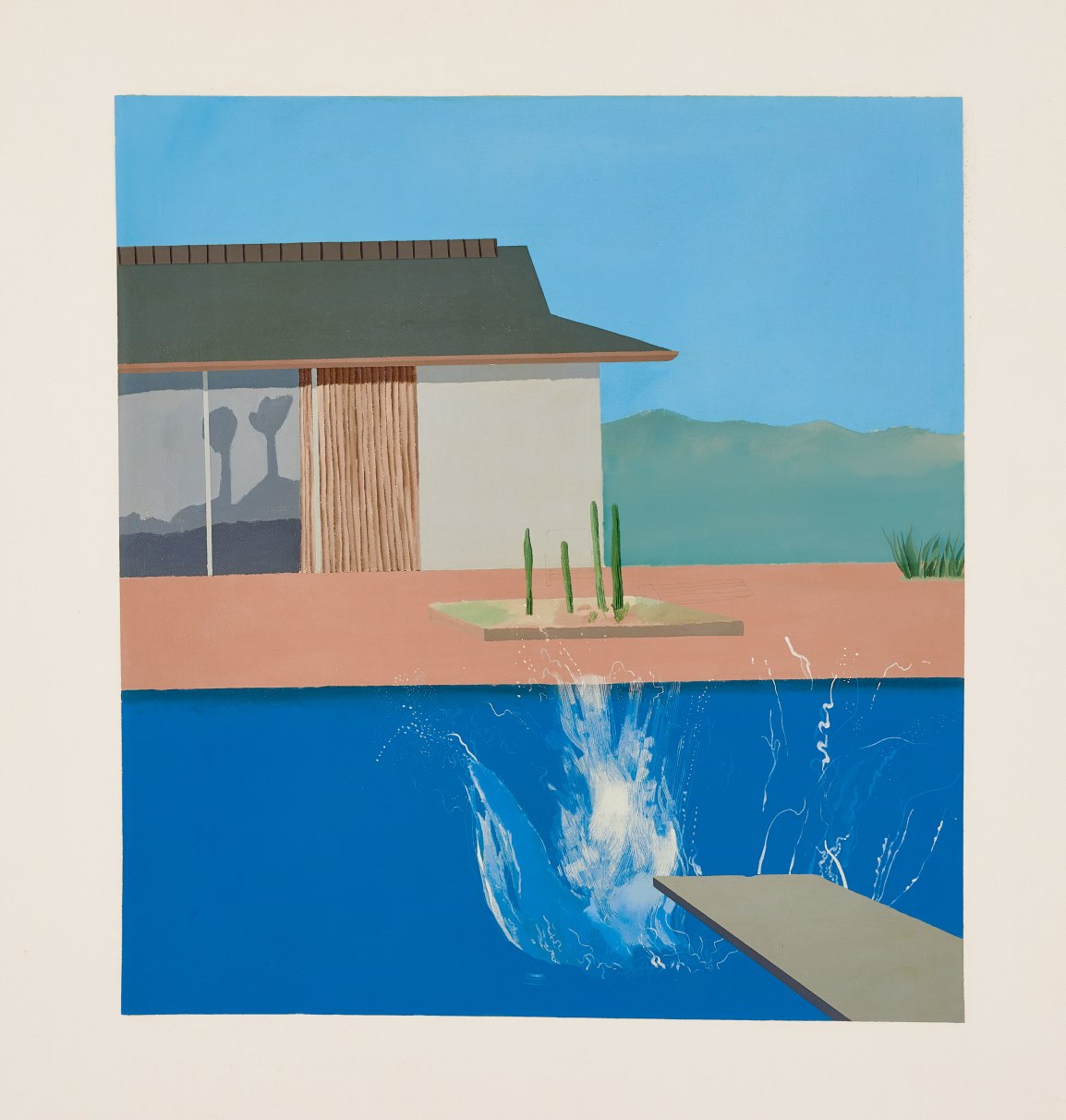 Image: From Sotheby's
The Splash is one of the most famous paintings by British artist David Hockney. Estimated to fetch between £20-£30m, the hammer came down at £23,117,000 at London's Sotheby's. The winning bid was made by an unknown buyer.
The previous owner of the piece bought it back in 2006 for £2.9m which was a record price for a Hockney painting back then. The previous record for a Hockney was the £1.9m paid for A Neat Lawn which went under the hammer in the same year.
The painting, which is a perfect example of Hockney's minimalist style, depicts the scene in an LA swimming pool just after a diver hits the water. It is one of a trio of works, which includes A Little Splash and A bigger Splash, and is considered an iconic pop art image of the 20th century.
One of the painting's counterparts – A Bigger Splash – is displayed in London's Tate Britain whilst the other is part of a private collection and is yet to appear on the public market.
In a statement, head of Sotheby's contemporary art evening sale, Emma Baker, said: "Not only is this a landmark work within David Hockney's oeuvre, it's an icon of Pop that defined an era and also gave a visual identity to LA".
Auction prices for high-end contemporary art have climbed in recent years as the world's wealthy have become increasingly interested in buying value-holding art for investment purposes. A 2018 auction at Christie's in New York demonstrates this, when Hockney's Portrait of an Artist set the record, at the time, of the highest price paid for a work by a living artist when it sold for £70m. This record has since been beaten (but only just) by a sculpture of US pop artist Jeff Koons which went for £70.3m.
Hockney's Pacific Coast Highway and Santa Monica went for £22m back in May 2018, more than doubling the previous record for Hockney paintings.
The Splash is a classic example of Hockney's fascination with water which lasted a lifetime. Along with the others in the series, the painting was inspired by the artist's time spent in LA after graduating from art school. Hockney first visited LA in 1964 and, after returning to London later that year, began work on his first pool painting. This piece – Picture of a Hollywood Swimming Pool – fetched £5.6m at auction last year.
Hockney moved to LA in 1966 and created the Splash series over the next year. Private swimming pools have always been a commonplace aspect of LA but to a young artist who had grown up in northern Britain during the second world war, experiencing deprivation and rationing, these pools must have seemed incredibly luxurious and even exotic.