The above Rolex Rolex Sea Dweller 1665 sold for £19100 with Cottees Auctions earlier this month
Vintage watches, the likes of which were immortalised by the likes of Andy Warhol, Rudolph Valentino, Clark Gable and Steve McQueen, just to name a few, have a classy and sophisticated air surrounding them. Wearers of these classic timepieces stand out from the crowd. Not only do they make a statement, but these classic timepieces are seen as an investment, one which is truly coming into its own era now. Names such as Patek Phillipe, Rolex, Cartier and Omega roll off the tongues of buyers and sellers alike. But how do you do know if that hand me down from grandad is actually worth valuable, or where to start in buying a classic timepiece? Here we explore some things you should consider before you buy your dream timepiece at auction.
What makes a vintage watch, well, vintage?
Usually, an item has to be at least 20 years old, or in the case of watches 25/30+ years to be worthy of the term vintage; however, as the popularity and desirability of vintage watches increases, some more modern watches are being bestowed the term. If the watch is no longer being produced at all or a newer model has been released then some believe that it is acceptable to consider this item as vintage.
Caring for vintage watches
The first step is to decide what the watch is for? Are you looking for a new Safe Queen, a rare, historical or very high-value item which is destined to spend its life behind lock and key, or are you looking for something to wear day to day, or perhaps just for a special occasion?
If the watch is purely an investment piece, which will be stored in a safe place you need to ensure you have a safe location before you venture out to make the purchase. For those looking for something to adorn their wrist, you should do some research on the maintenance and servicing of timepieces. You should ideally have a trustworthy watchmaker for said maintenance and servicing of your watches should the need arise. just like buying a classic car, you will need to ensure you need to keep the watch in safe, dry storage to keep it 'ticking' over.
Which watches are the most popular?
Of course, whether you're buying or selling, knowing your stuff is an absolute necessity, which is why we always recommend doing your research before committing to a purchase. Watches are ranked in tiers from the top of the pyramid covering the pinnacle of desirability and commanding the highest price point like Patek Phillipe to department store brand on the bottom end of the scale. The most popular brands such as Rolex and Hublot sit in the third tier of 'luxury', these watches hold their value well and are desirable. The entry-level luxury tier holds the likes of IWC and Omega, these are also great investment pieces and hold their value.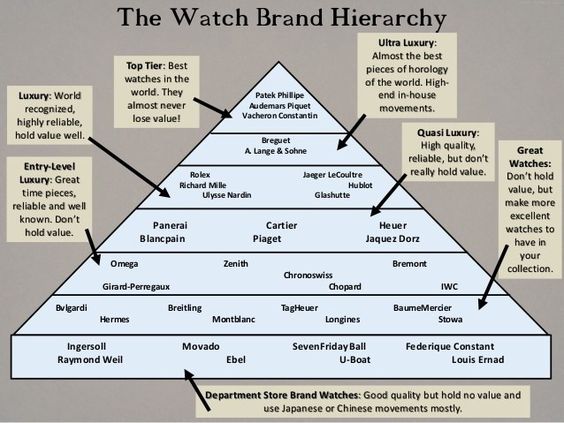 The watch pyramid diagram is by luxurymenwatchesbymiles.com
Of course, the higher up the pyramid you go, the bigger the price tag so as with any form of investment, collectable or large ticket item it's important to consider your budget, what you'd like to use the watch for and what style appeals to you. Rolex 'Paul Newman' Daytonas (especially late 60's and after) truly are considered by many watch connoisseurs to be the crème de la crème – with one such model selling for over £373,000 in 2019.
Often called the world's most desirable steel luxury sports watch is the Patek Phillipe Nautilus Ref 5711/1A modelled after the shape of a transatlantic liner's porthole. These are still being produced, however, in such small numbers that they are essentially impossible to purchase retail. As such a mint model with box and papers can easily be sold for over £63,000. The Cartier Tank definitely deserves a special mention with the one owned by Jackie Kennedy Onassis selling to Kim Kardashian for more than £290,000.
Of course, these are all high end on both price point and desirability, the joy of watches is there is something for everyone and a vintage watch can be found within budget for many as long as you don't set your expectations higher than your budget allows.
How do I know if it's in good condition?
Ideally, you will be looking for a watch that comes with its original certificate and box. You will also want a watch that has been treated with love, cared for and serviced by an experienced watchmaker. Whilst originality and perfection are highly sought after there is also a market for tropical dial and some discoloured models. A watch with significant historical importance will not necessarily need to be in the same immaculate condition as other vintage watches that someone would want to wear again.
Many local auction houses will have been in the business of selling vintage watches for a long time and will have solidly checked the authenticity of the watches – they also provide a healthy competition platform if it's your watch you're trying to sell. So whether you're looking to buy your first vintage watch, increase your watch collection or perhaps sell an attic find check out your local auction house!