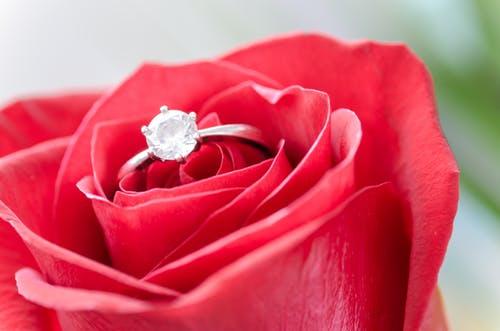 The Covid-19 lockdown has proven to be make or break for couples. If yours is one of the positive stories of growing ever closer during this difficult period, you may be thinking of taking your relationship to the next level. For those thinking of popping the question in the near future, we think there's no better place to buy your engagement ring than at auction. Because you don't have the traditional service that goes with engagement ring shopping at a store, and because auctions can be wonderfully unpredictable, you can often get way more bling for your bucks when buying jewellery at auction. Another fabulous reason to buy your ring at auction is that you can get rare and unique pieces that you simply won't find in the shops. Here's our top tips for buying your engagement ring at auction…
Take your time
To make sure you get the perfect ring, start looking early, and be patient. Jewellery comes up often at auction, with many sales containing nothing else, but you want to be sure the ring you go for is the perfect one for you. Browse the lots and get an idea of what is coming up for sale and what general prices are like. Our website allows you to browse lots from many different auction houses and set alerts for upcoming auctions, ensuring you won't miss out on anything.
Visit or contact the auction house
Whilst many auction houses are not currently open to the public and are, instead, operating online, some are looking to reopen in June following recent government announcements. When buying a special item such as an engagement ring, it's a good idea to see the item in person wherever possible to make sure of its quality and condition. If you can't get to the auction house for the pre-sale exhibition, contact them via email or phone to ask more questions or request additional images of the item.
Questions to ask
If you're new to buying jewellery at auction, there are a few important questions you may want to ask the auction house prior to bidding on a ring.
Is the diamond, or coloured stone, accompanied by a gemological laboratory certificate?
What is the size of the ring?
Does the piece require any repair work, and can you provide a condition report?
Do you have any other specialist information about the piece?
This information will sometimes be provided in the auction listing, but if it's not, don't be afraid to contact the auction house to get as much information as possible prior to bidding on a high-value item.
Factor in additional costs
Remember, when buying at auction, you will also need to pay a buyer's premium on top of the hammer price so be sure to factor this in when setting your bidding budget. You may also need to pay for any minor repairs on the item if it has any damage as well as the cost of resizing, which is almost always required; of course, you can choose to bid solely on items of the desired size but this will limit you buying options and you may miss out on the perfect ring this way.
Buying your engagement ring at auction gives you the widest possible choice, with modern, vintage, and antique options to suit all budgets and requirements. Our upcoming auction catalogues are a great place to start shopping for your engagement ring – check out the listings here.