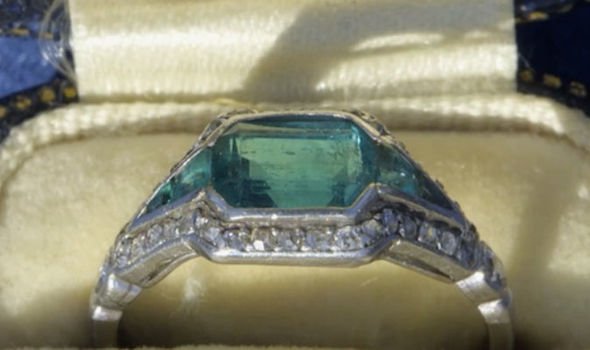 A ring which featured on the Antiques Roadshow this weekend proves that items with history and a story behind them can far exceed the average value.
On last night's Antiques Roadshow, expert Joanna Hardy was given a beautiful emerald ring to value. The ring was a family heirloom, and although gorgeous in its own right it had an astonishing story behind it. Not only had it survived more than 100 years, but it had also survived the fateful sinking of the Titanic!
If only jewellery could talk! This ring was on the finger of its owner as the ship went down. Guests on board the doomed ship were told to put on any jewellery they owned as the ship sank, with a large amount of it in the ships safe this gorgeous ring is lucky to have survived.
The ring had belonged to the guest's grandmother who had been on board the Titanic with her husband, mother and sister. Unfortunately, her husband didn't survive the journey, but she lived to tell the tale and pass on the ring to her granddaughter.
Married for less than 18 months, this ring was her engagement ring. She had lost a child the year before, which is why her husband took her on the voyage aged just eighteen at the time of the tragedy.
The expert, Joanna inspected the ring after hearing its incredible story.
"It has a signature inside saying La Cloche. Now, La Cloche had a shop in Paris but also in 1904 they had a shop in Bond Street.
"All of the rich and the famous and the dignitaries would buy La Cloche jewellery and this is definitely an engagement ring because you have the emerald there which means hope and renewal, rebirth, life and the diamonds are all set in platinum.
"The fact the emeralds can be quite brittle, so its journey of surviving with her as well."
On its own, she valued the ring at a staggering £6,000 to £8,000 saying it was in stunning condition. The shocked guest claimed it wouldn't sway her to part with the family heirloom, but Joanna hadn't finished. She went on to say;
"But, to have the Titanic factor, that is just another provenance in itself, which of course has to be verified to get a price," Joanna commented.
"But you know it could be easily in the region of £30,000."
The owner of the beautiful ring, says it will be staying in the family. Its incredible story and journey to survive the sinking Titanic has added an extra £22,000 to £24,000 to its value.
*Image from The BBC