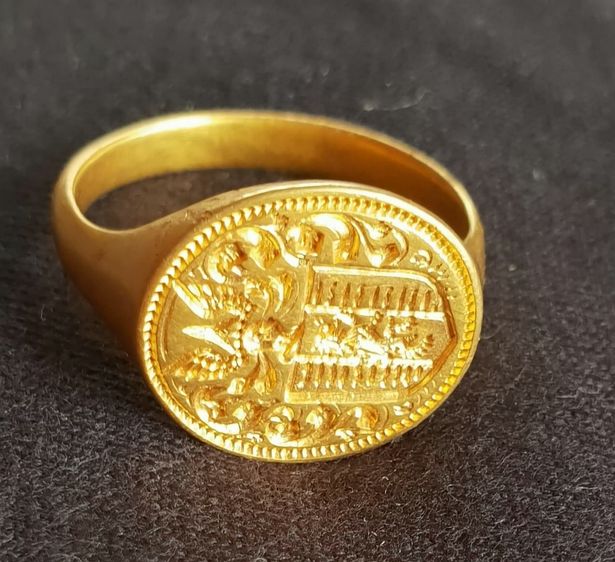 Image Dix Noonan Webb / SWNS.COM
Blackpool school teacher, Michelle Val took up metal detecting as a hobby with her husband as a means of relaxing, as many others do.
The pair took a trip to Scotland for a break and took their metal detector and discovered something truly astounding! While treasure hunting along the shore at Duck Bay near Balloch, West Dunbartonshire Michelle stumbled upon a ring.
"We were enjoying the peace and relaxation of our wonderful hobby, finding the usual ring pulls, tractor pieces and miscellaneous metal objects," Michelle said.
"So when I unearthed the ring, which was close to the surface, I knew straight away that it was something special."
"It shone with a distinct bright yellow colour as I carefully lifted it out of the dark muddy hole, where it had waited for at least 350 years," Michelle said.
"My calm mind changed to one of excitement as I shouted Tony over, he was surprised to see the ring lying in the palm of my hand."
The ring was no ordinary piece of jewellery and is thought to have once belonged to Edward Colman who was executed in 1678 after being falsely accused of treason. The gold ring bears his family crest.
The Colman's made a fortune in the 16th Century in the cloth trade in Suffolk. They put their money into land and became part of the Suffolk gentry. In 1678 Edward was convicted as part of the 'Popish Plot', which falsely accused several Catholic men of plotting to kill the King. Later proven to be a lie, it was already too late for Edward and 21 others who lost their lives at the hands of the executioners for the crime.
Michelle and her husband followed the rules about treasure finds and reported the ring to the National Museum of Scotland. The museum decided against purchasing the ring which means Michelle can now keep it.
Michelle contacted auctioneers Dix Noonan Webb to get a valuation for the ring and was pleasantly surprised by the estimate of £10,000!
Nigel Mills, an antiquities specialist at DNW, said: "The Colman seal ring is an excellent example of a high-status ring of the period, of which there are only a very limited number surviving in this condition.
"Metal detectorists like Michelle have contributed vastly to our knowledge by finding treasures that would have otherwise been unknown to exist."
Stories like this may be rare, but for those that have the patience and enjoy passing time in the outdoors, metal detecting is a superb hobby that may just hit you the jackpot!
Source: https://www.mirror.co.uk/money/woman‑finds‑antique‑gold‑ring‑18799302