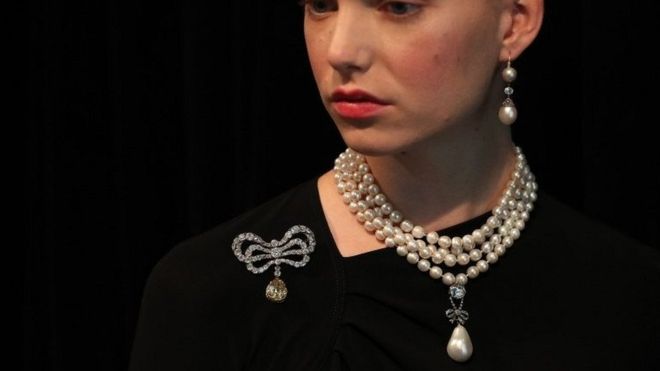 A collection of jewellery once owned by Marie Antoinette, which had not been seen by the public in 200 years was auctioned last week by Sotheby's in Geneva, with one piece achieving a record-breaking price!
The sale took place on Wednesday and was dubbed "one of the most important royal jewellery collections ever to appear on the market", by Sotheby's Geneva. As well as pieces once belonging to Marie Antoinette, there were jewels from King Charles X, the Archdukes of Austria and the Dukes of Parma, including a diamond tiara. In total, the collection sold for a staggering £53 million!
The star of the show, however, was a diamond and pearl pendant, which fetched £23 million, despite having an estimate of between $1 to $2 million. Sotheby's say this is a record-breaking price for a pearl! It sold for around double the price of the previous pearl record holder, which was a pearl necklace once owned by Dame Elizabeth Taylor, it sold back in 2011 for £11.8 million.
Marie Antoinette is known as the last Queen of France, who's lavish taste and extravagant lifestyle led to her becoming hated by the French public who couldn't afford to live and eat. This hatred led to the revolution which resulted in her death at the guillotine, but not before she managed to smuggle out this jewellery to her family in Austria. Deputy Chair Daniela Mascetti said: "This extraordinary group of jewels offers a captivating insight into the lives of its owners going back hundreds of years."
"the inherent beauty of the pieces themselves; the precious gems they are adorned with and the exceptional craftsmanship they display are stunning in their own right".
Alongside the pearl necklace was a pair of pearl and diamond earrings and a monogram ring which contained a lock of her hair.
The grisly history associated with these pieces of jewellery undoubtedly helped them to achieve such impressive sale prices. Marie Antoinette was married to King Louis XVI, they met their demise by guillotine during the revolution. Louis was executed first, on January 21st, 1793, Marie followed 10 months later on October 16th, 1793. They were survived by one daughter Marie Therese, who technically achieved the title of Queen of France for a mere twenty minutes and lived out the majority of her life in exile.
It's incredible to think that these pieces were successfully smuggled out of France at the height of the French revolution and managed to stay hidden away from the public for 200 years.