Some interesting lots will be going under the hammer this Saturday with auctioneer Sean Eacrett when they auction the entire contents of Marshallstown Cottage.
The sale will take place at Ballybrittas Auction Rooms on Saturday the 27th April from 10 am will feature 1008 lots which will include Irish & English Historical Memorabilia, a 'Live' shell found in suitcase & two 1985 20p coins.
Probably the most interesting find among the contents of Marshallstown Cottage was the live shell which measures around 8 inches long is dated 1895, which was found in a suitcase. Auctioneer Sean Eacrett came across the shell last week and noticed the primer and head were still intact. At this point, he called the gardai, who attended with assistance from the armies bomb disposal unit who removed the item for ballistic inspection.
The suitcase was one of four in the property which contained historical memorabilia. They were apparently purchased 35 years ago at a jumble sale and had remained in the attic of Marshallstown Cottage until last week.
"It looked like a vibrator with the primer still intact," said auctioneer Sean Eacrett.
The shell will, of course, be decommissioned and auctioneers Sean Eacrett are hopeful it will be returned in time for the sale on Saturday.
Other items found in the suitcases include an original type set of 'The Nation` War issue 18, relating to the Mountjoy murders of Rory O'Connor, Liam Mellows, Joe McKelvey and Richard Barrett, along with a signed copy of the third and final draft of the constitution and Sinn Fein Rebellion Handbook.
There is also an original 1922 typist letter detailing the murder of Erskine Childers, a poster mocking Fianna Fail entitled Devvy's Circus, World War II reconnaissance photographs and a letter written by POW John Barnwell to his brother Edward while on his journey home from a prisoner of war camp in Japan and a letter signed by Winston Churchill!
There's also an original edition of The General Evening Post dated 1781 and The Currior dated from the early 1800s.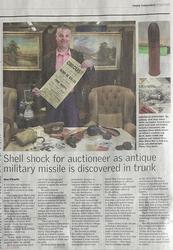 As well as all of the above historical memorabilia, there is not 1 but 2 1985 20p coins.
If you'd like to find out more about the contents of Marshallstown Cottage, view the catalogue or bid LIVE for just £3 on the sale which takes place on Saturday 27th April, click here.