An early 19th Century Mirror originally from Lissadell House in Sligo will go under the hammer at Sean Eacrett Auctions, Co Laois in a two day sale on 2nd & 4th November.
It was purchased directly from the Gore Booth family by the vendor and is a magnificent example of an early 19th Century Irish timber Mirror. Lissadell, former seat of the Gore - Booth family is located in the northerly extremes of Co Sligo.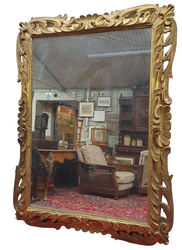 It was designed by the English architect Francis Goodwin to replace an earlier Georgian house which sat on the site, and the mirror was possibly designed to go between the pillars over the fireplace in The Gallery as documented in an early article in Country Life magazine in the 1950's.
The house is steeped in history and Constance and Eva Gore Booth played significant roles in both the Nationalists and Suffragette movements. Susan Pollexfen wife of John Butler Yeats and mother of William (poet) and Jack (painter) was a good friend and through this close association developed Lissadell and the Yeats family over the years so one might wonder therefore what this mirror might have reflected over the years, what gatherings, what speeches, what recitals and what plottings, if only a mirror could talk!
Also in the auction there are two private collections of Irish Art to include Nora McGuiness, Frank McElvey, John Skelton, Elizabeth Cope, two by Sean O'Sullivan, four oils by Gladys McCabe, Peter Knuttel, Douglas Alexander, Alexander Williams, Kenneth Webb, T H McKay, and many more artists. It is an art lover's dream when fresh goods come to the market from private collections.
Also in the auction is a multitude of 18th Century and later Furniture, Mirrors and Chandeliers. There are over 1000 lots up for grabs.
The auction takes place at the auction rooms in Ballybrittas on Thursday 2nd @ 5pm and Saturday 4th November @ 10am.
Sean Eacrett have viewing open to the public in Ballybrittas the week prior to the sale; register to bid across the full sale here.