The two-day sale, which will take place on April 18th and 19th, includes a selection of personal correspondence from several members of the Royal family. Amongst the lots will be a collection of letters and cards which were sent over many decades to Horace Smith and his daughter Sybil. The Smith family owned a riding school and were riding instructors to the late Queen Elizabeth II and Princess Margaret during their childhood. In later years, Sybil became Prince Charles' and Princess Anne's riding instructor. She was very close to the Royal Family and was present at many Royal occasions over the years including Princess Margaret's wedding to Antony Armstrong-Jones and the service held for Queen Elizabeth and Prince Philip's 25th wedding anniversary.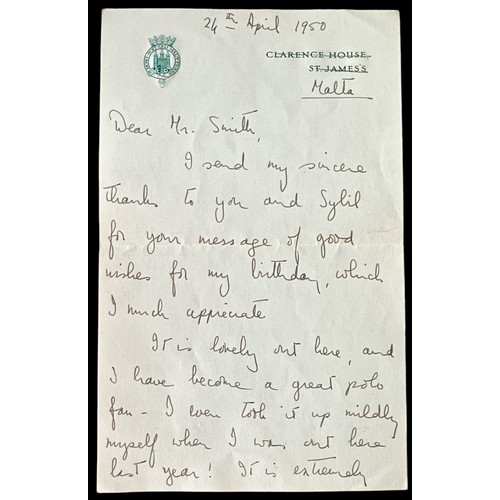 The auction will feature several handwritten letters, written by Queen Elizabeth II and Princess Margaret. The appreciation they had for the Smith's is evident in each. The first letter was penned in 1950 by the then Princess Elizabeth to Horace Smith. At the time, the Princess was residing in Malta with her husband, the late Duke of Edinburgh, who was stationed there as a naval officer. Queen Elizabeth later referred to this time as some of the happiest days of her life. The letter is expected to fetch between £700 - £1000 and it reads:

"Dear Mr Smith, I send my sincere thanks to you and Sybil for your message of good wishes for my birthday, which I much appreciate. It is lovely out here, and I have become a great polo fan - I even took it up mildly myself when I was out here last year! It is extremely good for one's riding, I find as all the ponies here are so quick that that unexpected turn which they are inclined to do, has one off in a moment! I hope you and Sybil are both well. Yours sincerely, Elizabeth."

Another letter, penned by Princess Margaret to Mr Smith reads:

"Dear Sybil,
Many happy returns of the day and congratulations on your 90th birthday. I have never forgotten our happy riding lessons which resulted in many years of enjoyable times in the saddle. Have a lovely time.
Love from Margaret."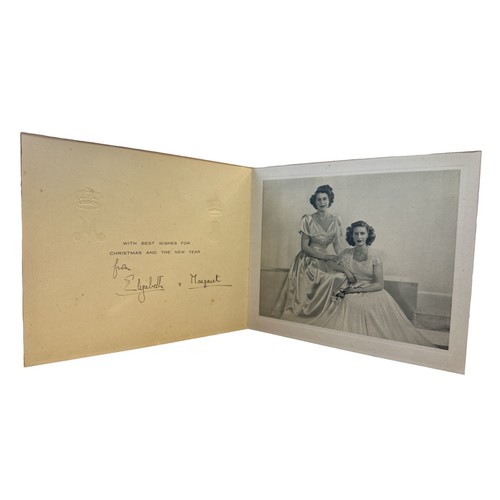 Other items in the sale include some extremely rare Christmas cards which were sent by Princess Elizabeth and Princess Margaret back in the 1940's. The cards are signed by both princesses and bear the twin E and M on the front cover and black and white photographs on the inside.
There are many cards in the sale, sent over a period of five decades between the 1940's and 1990's. They are each expected to fetch between £80 - £120. While the earlier Christmas cards typically contained black and white photographs, the later ones tend to have colour photographs of the Queen on the front, either in family portraits or showing her performing her royal duties. Some are signed by the Duke of Edinburgh as well as the Queen.
Other lots include telegrams sent by Queen Elizabeth and Princes Charles as well as a greetings card sent by Princess Alexandra, Lady Ogilvy who is the late Queen's first cousin. You can view the auction catalogue and register to bid live here.