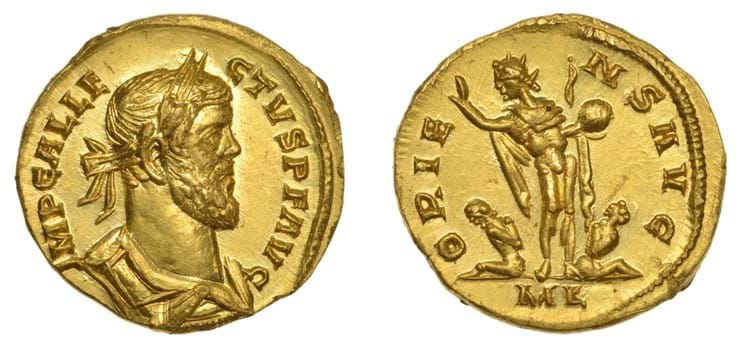 *Image from Auctioneer Dix Noonan Webb
It's the thing all treasure hunters dream of, a once in a lifetime find that could set them up for life. While it may seem like a strange hobby to those around them, a metal detectorist always hopes to find something special, it's the thrill that keeps them going.
For one man and his brother, their time paid off when they discovered a rare gold Roman coin in a field in Kent.
The coin dated to the reign of Allectus, which was a very brief three years between AD293-296. The rare coin is thought to be the first Allectus gold coin found in more than 50 years. Coins from the short reign of Allectus are rare, it is believed that coins minted by Allectus were demonetised and melted down post-death. This is thought to be the case because none have been found in later hoards.
This coin attracted a lot of attention when it went to auction this week. The estimate on the coin was £70,000-£100,000 but when the hammer finally fell the coin had fetched £460,000!
The finder chose to remain anonymous but said:
"I had permission to be on the land [a newly ploughed field close to a Roman road near Dover] by the owner – at first we found bits of old tractors and shotgun cartridges, but after 45 minutes I found the coin. I initially thought it was a half-sovereign, but I gently sprayed it and it started to gleam.
"I contacted the British Museum, who asked me to take it to show to their expert, Dr Sam Moorhead. He was able to confirm that the coin matches another in the British Museum collection [found at Silchester in the 19th century]."
Following the sale, he said: "We expected it to sell for a little overestimate, but not five times the estimate! We are sharing the money with the farmer, who is also thrilled!"
This is the most money ever paid for an Allectus coin, making it the most valuable coin minted in Britain during the Roman empire.
This coin serves as proof that dreams can come true, making the metal detectorist, his brother and the farmer a nice little sum!