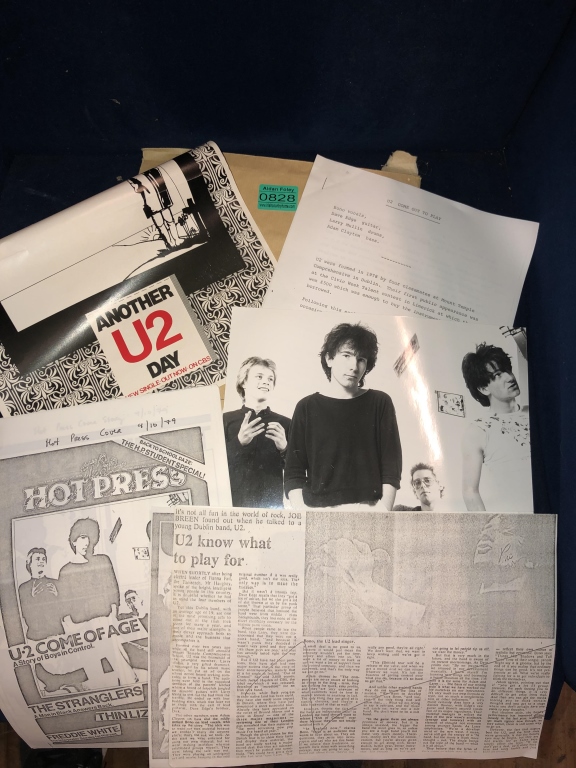 County Clare-based auctioneers Aidan Foley have some very interesting items for U2 fans in their upcoming sale on Tuesday 27th of August.
Include among the 1180 lots is some rare U2 Ephemera. The internationally acclaimed Rock band U2 started their performing life in Limerick, Ireland. Before the days of international fame and fortune, the band entered a talent competition in Limerick. It was this talent contest that would set them on the path to stardom. They went on to win the competition and the 1st prize of £500 and some studio time to record a demo.
It was this prize money that allowed them to purchase their musical instruments, which had been borrowed in order to enter the Limerick talent content. The rest, as they say, is Rock Legend History! The pre-sale estimate for this lot is € 300.00 - 500.00.
The band was formed in 1976, although it wasn't called U2 then. Bono, the Edge, Adam Clayton and Larry Mullen Jr came together as teenagers to form the band. Within four years they were signed by Island Records, releasing their debut album 'Boy' in 1980. They had their first UK number one album in 1983 with 'War'. By the middle of the 80s, the band were known internationally aided by their Live Aid performance in 1985 and the Joshua Tree album in 1987.
Another lot of interest for the U2 fans is a 1987 Joshua Tree concert poster. This lot has a pre-sale estimate of €200-€300. Of course, it was this album that cemented their success as international rock stars. It was critically acclaimed going to number one in over 20 countries worldwide. It went platinum in the UK within a mere 48 hours, making it the fastest seller in British chart history! It also won them their first two Grammy awards.
Take a look at all of the U2 lots in this sale here. You can also set an alert to keep up to date with any U2 memorabilia that hits our site.