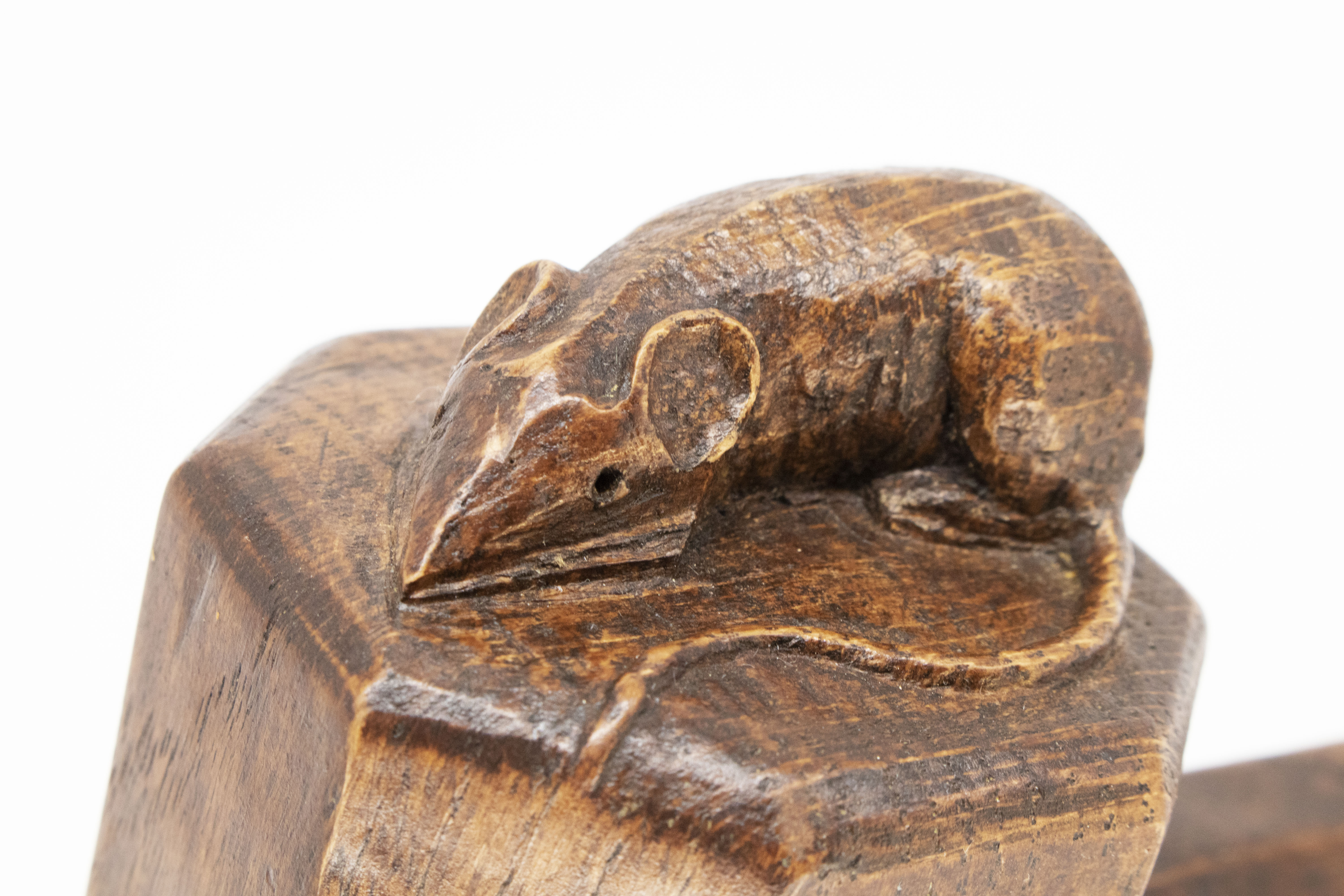 Photo caption: Robert 'Mouseman' Thompson gavel carved with signature mouse – SOLD for £980 + Buyer's Premium
High prices were achieved in Ryedale Auctioneers' Country House Sale including Yorkshire Oak and Mouseman on 23rd September, when local bidders joined collectors from around the globe and trade buyers to battle it out for early pieces with provenance.
The sale featured over 60 lots with a Mouseman signature along with other Yorkshire Oak pieces including work by Wrenman and Gnomeman. Mouseman highlights included some rare biscuit barrels, which sold for £760 and £1,350, two turned oak bowls which sold for £2,600 apiece, and a small chest of drawers which sold for £2,900.
Robert 'Mouseman' Thompson (1876-1955) was a craftsman born in Kilburn North Yorkshire where he set up a business manufacturing oak furniture, carving a signature mouse onto each piece by way of a signature. Some former Kilburn apprentices set up their own workshops and carved their own signatures, collectively their work has come to be known as "Yorkshire Oak". The Robert Thompson workshop in Kilburn is still in operation today. This is just down the road from Ryedale Auctioneers Kirbymoorside salerooms.
Yorkshire Oak furniture is highly sought after with collectors around the globe and is known for its quality, simple design, and durability.
Auctioneer Angus Ashworth said of the sale: 'the earlier Mouseman pieces in the sale had been owned by a local family from new and were carved during the time of Joseph Heu (1876-1952), an Austrian master carver who fled the Nazis and worked at the famous oak carving workshop in Kilburn under Robert 'Mouseman' Thompson. Yorkshire Oak has always been popular with buyers, but we are seeing prices rise exponentially for the smaller decorative items, especially earlier pieces.'
Also on offer in the sale was a selection of whisky including a Corbett's Special Liqueur which sold for £520, a Jaeger-LeCoultre clock which sold for £2,550, and a Victorian diamond pendant which sold for £2,650 (all prices quoted exclude buyer's premium).
The total hammer price for the sale was Ryedale Auctioneers' second highest to date. Live online bidding hosted by easyliveAuction meant that Ryedale Auctioneers were perfectly positioned to offer an incredible service to bidders and vendors alike.
Ryedale Auctioneers are currently inviting entries for their next Country House including Yorkshire Oak / Mouseman sale. To arrange a free valuation please call 01751 431 544 or email info@ryedaleauctioneers.com
Full sale results: Ryedale Auctioneers | Auction Results | Country House Sale including Mouseman and Yorkshire Oak