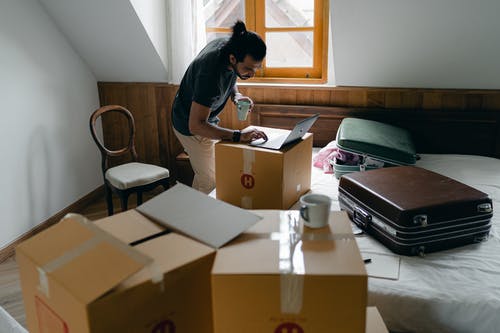 With a lot of us having spent the past few months at home and hints of another lockdown looming, certainly many people appear to have more time on their hands than they would like. Two of the ways that people have chosen to pass the time is with decluttering and DIY! Some people like to have a good old clear out before Christmas, others may be looking to completely change a rooms' décor or even its use. What better way to make more of the space you are stuck in than by getting rid of the things you just don't use anymore? Before you put those unwanted items into a big bag and drop them off at your local charity shop or tip – check out our list below of just a few items you may not realise are worth a pretty penny!
Old VHS Tapes
Generally speaking, VHS tapes are often considered to be worthless and even extinct – the last VCR manufacturer stopped production several years ago; let's face it, even DVD's are more or less on their way out, with online streaming and downloads being so accessible. Some VHS tapes, however, are actually worth a lot! Whilst there is some controversy surrounding the value of them; the most valuable video cassettes tend to be original Disney "Black Diamond" Classics. Spot them by the black diamond on the upper spine with the word THE CLASSICS in it. There are also some horror films which are only available on VHS, these too, are worth something, so if you have a box of tapes gathering dust somewhere, check out the value before taking them to the dump.
Old Toys
Pokémon cards, Lego and Classic iPods are just some of the items you may have laying around; these along with some vintage GI Joes, vintage games, videogame consoles, Polly Pockets, barbies and some of the original Cabbage Patch dolls are worth looking into before selling. Items such as Meccano also strike the chords of the nostalgic soul.
Clothing
Vintage T-shirts – especially those vintage concert and band ones! Before you get rid of those old clothes, check if you have a T-shirt from an old concert. Sports memorabilia also fetch a sweet coin – this football shirt is valued at £1100 - £1300!
Vinyl Records
Have you got a Spice Girls record laying around? Perhaps instead The Kinks or The Jam, Smashing Pumpkins or Kestrel. There are in fact a raft of different pieces of vinyl that are quite valuable; This Beatles LP is estimated at £500 - £600. So, before you ditch them, make sure you have a little rifle through them to see if there's any money to be made!
Militaria
The collectability of those prized World War I and World War II items does not appear to have abated. The Express stated that the most valuable memorabilia from World War I would be a Victoria Cross medal valued at £200,00! Some other valuable items you may have perhaps handed down to you or just found in the loft would be daggers, military swords, brass trench art, and Red Cross prints just to name a few.
The truth is just the clear out itself can be thoroughly rewarding, regaining control over your space is a wonderful feeling but if you could also be patting a full pocket or putting money towards a new settee then why not! Auctioneers offer free valuations so head over to and find your local auction house if you think you have something of value to sell.