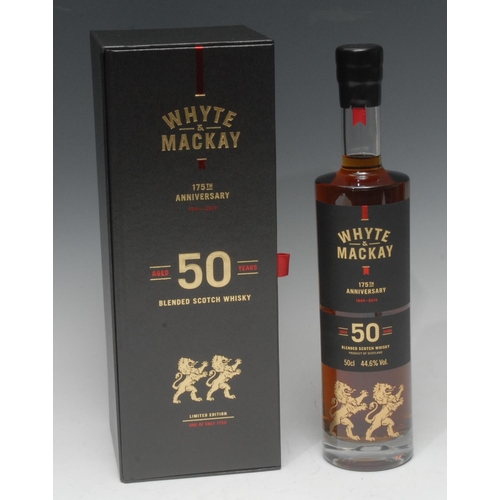 Image : A rare Whyte & Mackay 175th Anniversary aged 50 year old blend scotch whisky, limited edition of 1750
You may have recently read about the young man from Taunton whose father gave him a bottle of whisky every birthday. Born in 1992, Matthew Robson received a bottle of 18-year old Macallan whisky every year. He even received a bottle on his 18th birthday which would have been bottled the year he was born! Truly a history lesson in the evolution of the popular brand. Dad spent £5000 on the collection of 28 unopened bottles, complete with their own boxes and Matthew now looks to sell the collection for offers over £40,000. Perhaps you're looking to do something similar for your own child, maybe you're just looking to start an intriguing collection for yourself! If you happen to be a whisky lover there is no better time than now to create a trove of your favourite tipple. Here we explore the best way to begin your very own whisky collection.
Decide what you're actually going to collect
Most people start collecting whisky because they enjoy the taste of a particular brand; however, certainly taste should not be the only deciding factor. Perhaps you want to do as Matthew Robson's father did and collect a consecutive run of vintages, known as a vertical. Maybe you fancy collecting one bottle from every single distillery, only collecting single cask whiskies or perhaps just those from closed distilleries (silent stills). Could it be that you just want to collect every bottle from your favourite brand – the idea is whatever you choose to collect; pick a theme and stick to it!
Know your stuff
Did you know that darker whiskies are usually more prized than their paler counterparts? Turns out only 1/10 of Scotch whiskies are aged in sherry casks which are made with European oak. This gives them a different, richer, Christmas cake flavour and darkens the colour! What a collector is really looking for, is that the quality remains consistent and that the distillery has a good reputation. Keep an eye out for those rare whiskies; those from closed distilleries for example, bottles that have been discontinued also prove popular! Keep an eye out for those rare bottles only released annually in limited numbers! As with all collectables, rarity increases desirability and value!
Some rare brands to consider collecting are
Port Ellen, 33-year-old, Islay single malt – only 210 bottles of this were released – dedicated for travel retail which means they are not often seen anywhere else.
Bowmore 1973, 43-year-old, Islay single malt – having matured in bourbon hogsheads for 32 years before being bottled in 2016 this is incredibly sought after.
Longmore 1961, 57-year-old Gordon & MacPhail – this is one of the oldest Longmorn singles malts ever!
Brora 30-year-old 6th release bottled in 2007 – this silent distillery is actually planned to be reopened but these bottles are still highly sought after.
Now whether you choose to collect your very own vertical, only search for the very rarest of whiskies, or rather choose one from every single distillery out there – we hope we've provided a few pointers of a place to start – just don't forget to keep your prized bottles in a cool dark place and always standing up!