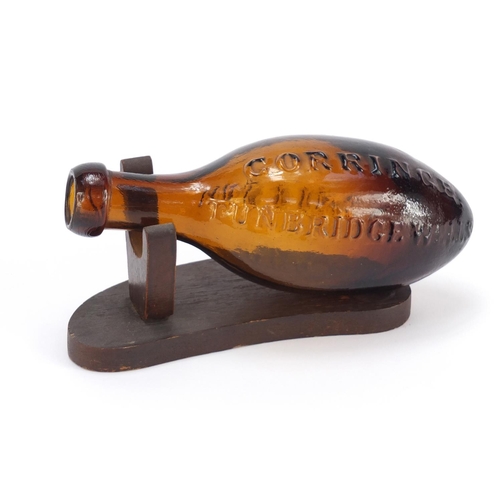 Many auctioneers have had to adapt during the ongoing pandemic, no longer able to hold physical sales, they have adapted to provide sales over the phone and internet. Eastbourne Auctions are one of the auctioneers who had to close in March, with uncertainty over when they could reopen their doors.
Still having a saleroom full of items which needed to be sold, they decided to offer an online sale, providing bidding to their customers over the telephone and online via Easy Live Auction and their own website, they also decided for the first time to go live on Facebook to introduce more people to the world of online auctions.
The sale was a success, but one item particular was full of surprises. A rather humble-looking antique brown glass bottle went on to smash its estimate of £100 -£150 to sell for £8,000 with buyers' premiums!
So, what was so special about this particular bottle, that helped it achieve such a phenomenal price at auction? When the auctioneers tried to research the bottle company Gorringe of Tunbridge Wells & Hastings they couldn't really find much information.
Hamilton or Torpedo bottles were used for aerated or carbonated water. They were referred to as torpedo bottles due to the unique shape, oval-shaped with a neck at one end, they were deliberately designed to prevent them from being stored upright. The goal was to keep the cork wet so that it did not dry out and crack. These bottles were widely used between 1840 and 1870 for carbonated water, which was believed to have health benefits at the time. They were replaced with Codd bottles, which had a marble in the neck.
This fine amber coloured Hamilton bottle, was, however, apparently very rare. Bottle collectors said they had never seen one, only a sketch in a book leading to the assumption that this could be a very rare prototype bottle. The rarity and local interest factors helped to propel this bottle way overestimate on sale day.
The Auctioneer believes this to be a unique example of an amber coloured glass Hamilton bottle which has survived over 160 years.
From the Gorringe Factory in East Sussex, it may have been a prototype designed to protect the contents of the aerated water from the sunlight.
Well exceeding its pre-sale estimate of £100-150 and after fierce bidding via the Internet, it finally sold for £6,500 plus buyer's premium (£8,000 in total) to its delighted new owner a dedicated bottle collector through the Easy Live Auction website.