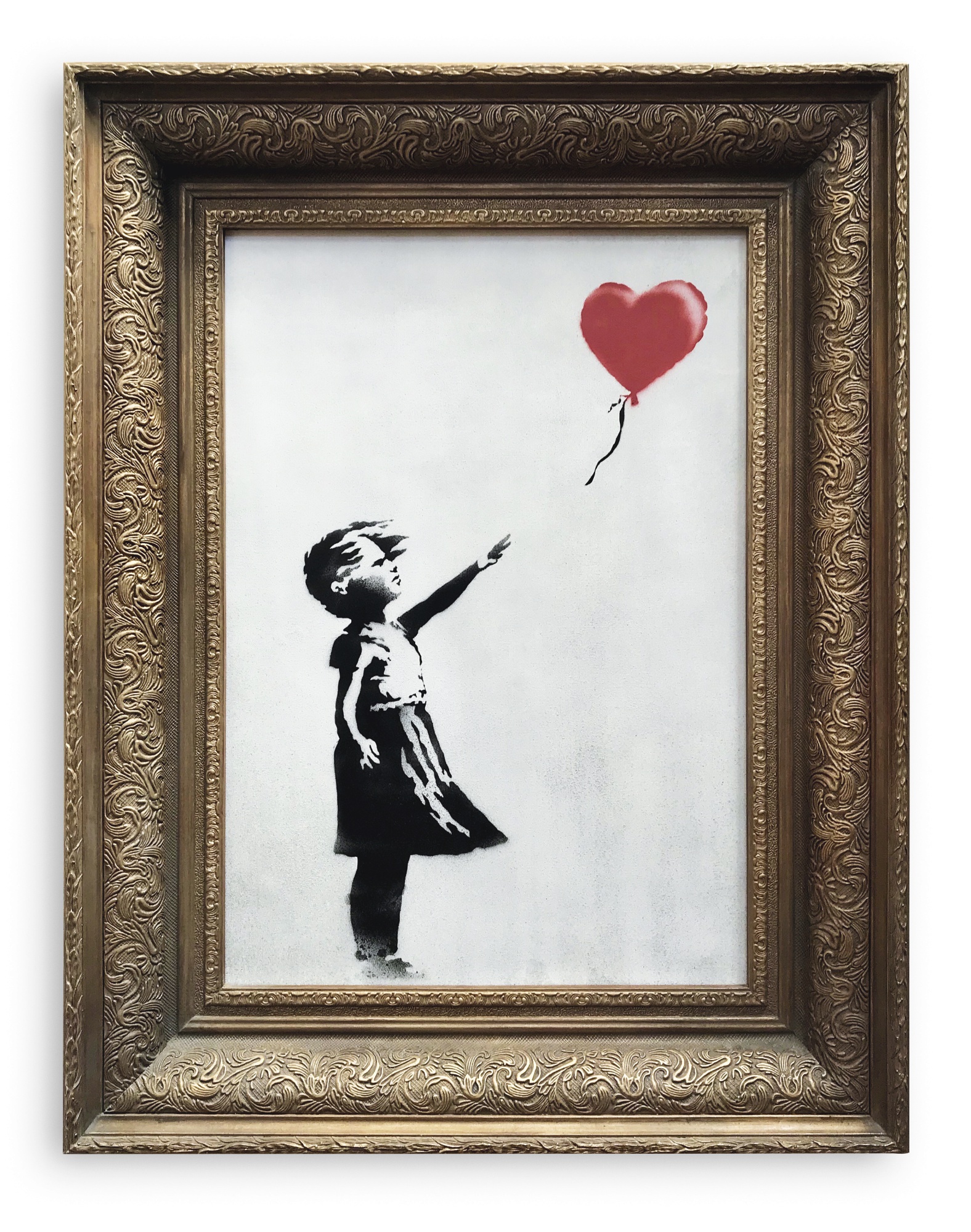 Image From Sothebys
The renowned anonymous street artist known as Banksy is no stranger to causing a stir, but this latest stunt could well go down as the greatest PR stunt of the year!
When one of Banksy's most well-known pieces, 'Girl With Balloon' went to auction with Sotheby's in London on Friday everyone in the saleroom was left in shock. The auction went well, with the piece fetching three times its pre-sales estimate and going for £1,042,000!
However, as the hammer fell on a record-breaking price for a Banksy, and the piece was declared sold, the painting began to shred itself.
Banksy uploaded a video of the event to his Instagram page with the caption "The urge to destroy is also a creative urge" – Picasso.
Apparently, the artist had secretly installed a shredder inside the frame in case the piece was ever auctioned. He also shows the shredding device, which was hidden in the ornate gold frame, which was listed as 'an integral element of the artwork chosen by Banksy himself'.
Banksy's Instagram also showed a video of the shocked reactions of everyone in the saleroom, raising questions about whether he was actually in the saleroom himself to capture the shock of everyone in attendance.
Alex Branczik, head of contemporary European art at the auction house, said: "It appears we just got Banksy-ed."
So, what happens now? Already there is debate over whether this stunt, in fact, makes the artwork even more valuable? But the question here is, will the buyer still have to pay and will they want to?
"We have not experienced this situation in the past, where a painting spontaneously shredded, upon achieving a record for the artist," Mr Branczik said. "We are busily figuring out what this means in an auction context."
Questions have now been raised over whether the buyer is obliged to pay for the piece since the gavel fell, with speculation online that this stunt will have actually increased the value, and the sale now going down in art history, they may still want to purchase the painting. We will keenly be waiting to see the outcome of this sale.
Geneva-based artist Pierre Koukjian, who was at the auction, said the buyer was "very lucky" to own a now-historic piece. He called Banksy's prank "a turning point in the history of contemporary and conceptual art."
John Brandler, director of Brandler Art Galleries, described Banksy as "the ultimate publicity artist" and said the stunt was "absolutely brilliant".
"He has made Damien Hirst look like an amateur,"
The winning bidder has not been named, but Sotheby's are of course in discussion with them to decide the next steps. This has never happened before and is sure to raise some unique obstacles and questions.
Source: https://www.bbc.co.uk/news/uk‑england‑bristol‑45770028