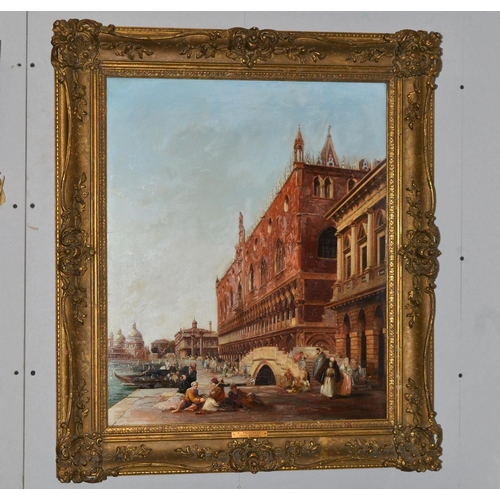 A work of art by elusive 19th Century artist Edward Pritchett is set to go under the hammer with Oxford-based Churchill auctioneers on November the 5th.
An Oil on Board by the mysterious Pritchett has surfaced in an Oxford saleroom. The painting by the mysterious artist is included in Churchill Auctions sale on Bonfire night, we think it's rather fitting that on such a day we should expect some daytime fireworks in the saleroom to precede ones that evening!
The painting is lot number 520 in the sale and has an estimate of between £5,000 and £8,000.
According to Wikipedia, 'Nothing is known of Pritchett's life; he has appropriately been described as "elusive.". Pritchett spent more than three decades living and working in Venice, producing admirable views of the city; he was one of a group of English artists who produced notable records of the scenes of northern Italy, a group that included John Wharlton Bunney, James Holland, the brothers-in-law Luke Fildes and Henry Woods, and, in a later generation, William Logsdail.
So little is known of Pritchett's life apart from the fact he lived in Venice, that even his lifespan is up for debate. He may have died at the age of 36 in 1864, but could have possibly lived another fifteen years, until 1879.
In addition to the oil on board, the same source has provided an extensive collection of 18th Century silver to include lot 310, an 18th century Exeter silver lidded quart tankard and lot 340 a Queen Anne Britannia silver period brandy warming pan made in 1709.
Lot 360, a 17th Century cast bronze mortar is also sure to create some interest.
With so many interesting lots included, this is definitely a sale not to be missed. You can view the full sale catalogue right here.