In a collection of 61 lots, Lawrences of Bletchingly fetched £145,000 for watches which have not been seen on the market for almost a century. In an online bidding frenzy, the 17th, 18th and 19th-century watches went largely to remote bidders, demonstrating the value of online auction platforms, especially in these times of social distancing with lockdowns in place.
The watches were last bought in the early 20th century by Francis Payne, a successful consulting and mining engineer based in London. Several of the watches were sold with original invoices, showing that they came from leading auction houses and retailers of the time including restorer Louis Desoutter and the Hanover Street Dealer.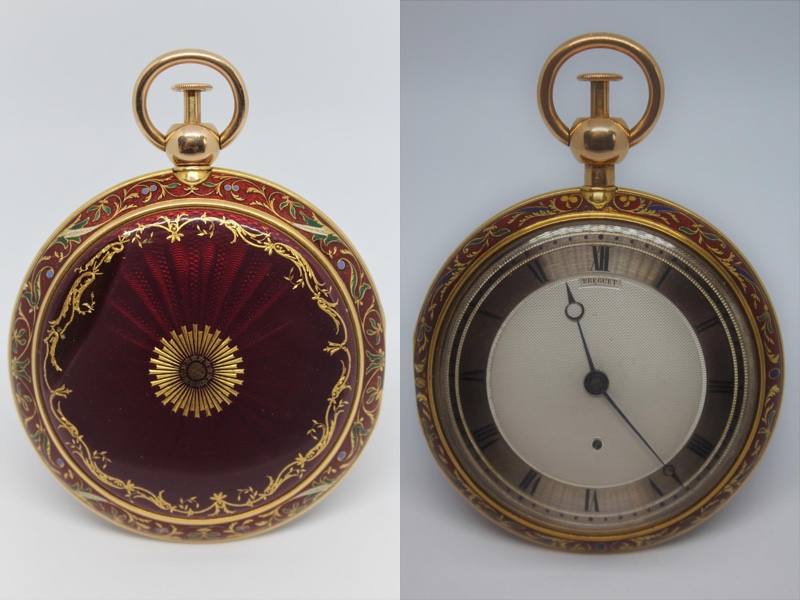 At the start of the auction was a collection of four watches by Breguet, which collectively made £80,000. The most distinctive and impressive of this collection was a pair cased half hunter which was made for the Ottoman market, with the inner and outer gold cases being decorated in profuse guilloche enamel with flora scrolls on a claret ground. This piece alone fetched £46,000 and was housed in a red morocco leather-covered case by Desoutter, with a Breguet key. It included a Breguet certificate which detailed the 1811 sale of the watch by Leroy Constantinople as well as Breguet paperwork which detailed various repairs in the 19th century that were carried out for SE Abraham Pacha. It also included a Louis Desoutter invoice, made to Francis Payne in 1928, for £55 along with various notes suggesting there was a link to Sultan Sellim III.
Another notable piece was a large gold open face pivoted detent tourbillon chronometer, signed Moremble, Eleve de Breguet No.4 which sold to an online bidder with Easy Live Auction for £17,000. It has a silver engine turned dial with Roman numerals, subsidiary seconds dial and power reserve indicator and is inscribed either side of the subsidiary dial ' Regulateur a Tourbillon '. On the inner cover, it is inscribed ' No. 4 Chronometre Tourbillon, Moremble Eleve de Breguet '. It is presented in a red Morocco leather-covered case from Desoutter and included Desoutter's invoice dated 1930 as well as several letters from Mrs Desoutter inviting Mr Payne to purchase the watch owing to the death of her husband.
Considered to be his favourite recreation, Francis Payne's collection was mainly formed between 1910 and 1930. He developed contacts with various leading auction houses and retailers in his time. The collection has remained in the Payne family until being consigned to Lawrences of Bletchingly for this sale, which is why the collection attracted so much attention.