BID ONLINE EXCLUSIVELY with EASY LIVE AUCTION in this CHARITY AUCTION - NO BUYERS PREMIUM OR INTERNET COMMISSION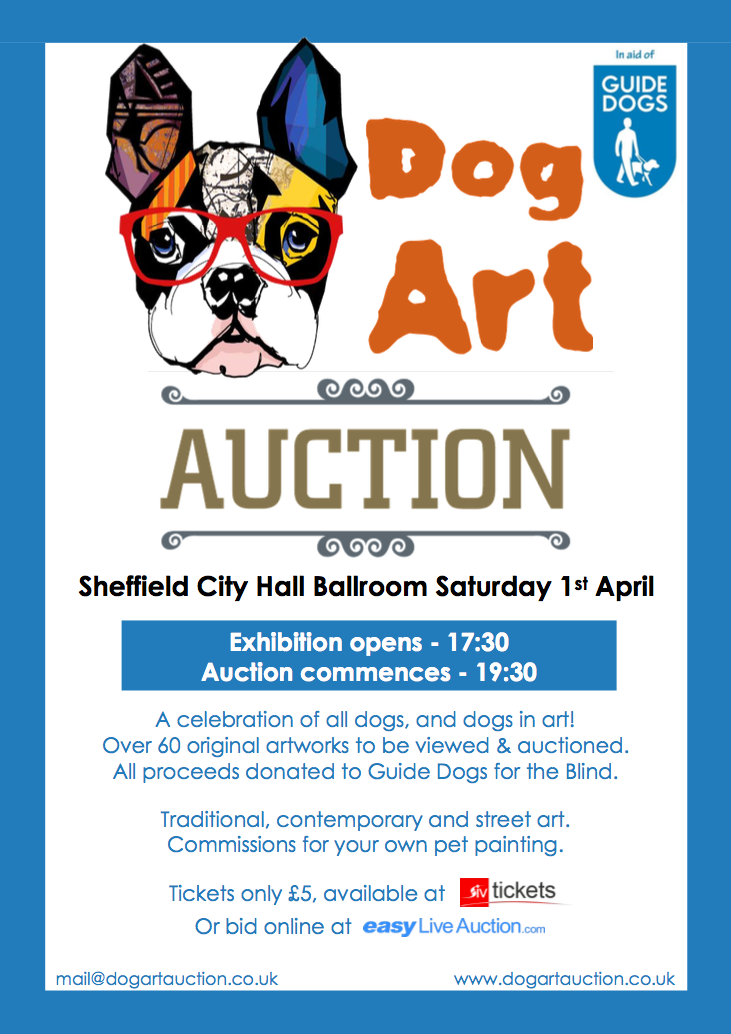 In the run up to the auction, a selection of the works will be on display at John Lewis, Barkers Pool, Sheffield from 28th February.
Tickets are on sale for the auction at Sheffield City Hall, the auction itself will be run by Michael Dowse from Sheffield Auction Gallery. There will also be the option for anyone who cannot attend the event to bid on-line through easyliveauction.com.
Freddie says: 'I love dogs, and I love paintings of dogs. Having an auction of dog paintings seemed like a good way of making money for Guide Dogs. We started out thinking it would be small, but then we got more and more paintings'.
The auction covers a whole range of artistic styles and values. There are traditional style paintings, right through to more contemporary and urban art. Item values vary from a few pounds, through to those which could hopefully sell for 4 or 5 figure sums. The only criteria was that they items must be of a dog, or contain a dog in them somewhere.
Artists who have taken up the challenge incude Charming Baker, Mackenzie Thorpe, Sam Sopwith, Sarah Stokes and Teddy Baden. Alongside them, will be a number of items created by visually impaired artists DMO'R, Sian Healey and Branwyn Owens, as well as Freddie's local MP Nick Clegg.
One of the donating artists Sian Healey says 'As a guide dog owner and visually impaired artist I was very excited to get involved and donate work to this special charity auction. Guide Dogs is a charity so close to my heart. My guide dog Arnie has given me confidence, independence and purpose. He has even allowed me to develop as an artist as without him I wouldn't be able to get to and attend art classes. Thank you to Freddie and family for organizing such an amazing fundraiser! I am honoured to be able to contribute in a small way.'
Sarah Stokes, a watercolour artist from Wolverhampton says 'I'm delighted to support this very worthwhile cause. Freddie and his family have worked so hard over the years training guide dog puppies and fund raising, that it's the least I can do. Having viewed the auction lots, it promises to be a very exciting day!'
One of the most iconic paintings in the auction, has been provided by street artist Teddy Baden, he explains 'In evolution our primary interactions with dogs were symbiotic, so we benefitted hugely from our K9 counterparts. Historically dogs have been depicted as spirit guides in many cultures. In a modern world Guide Dogs typify precisely what my artwork attempts to, and continues the reciprocal exchange.
I was really happy and surprised to be approached by ambitious young Freddie -who asked me if I'd get involved in this fundraiser for Guide Dogs.
I couldn't think of a charity that embodies the union between 'man and dog' any clearer, making this endeavour all the more appealing.
The work I've produced is unique and bespoke for this auction, in the hope it will raise as much money for the charity as possible, to support blind and visually impaired people. I know that as an artist I take my eyes for granted every day.
In the painting we see friendship above all. Through the child we see the; trust, confidence and security that a guide dog can bring. The dog is 'therapy animal' as well as 'pilot'. This is arranged and presented as contemporary heraldry, flying the flag for Guide Dogs in an enchanted, fairytale celebration'.
Freddie is no stranger to supporting Guide Dogs. Along with his mum and dad, they have looked after Guide Dogs during their early training or as puppies for the last 7 years, having given a home to 14 dogs in that time. In 2015, at the age of 10, Freddie and his family also trekked 100km across the Sahara Desert raising £7,000. Following on from this, Freddie won Guide Dogs young volunteer of the year award and also a Gold Blue Peter Badge.
As well as the auction planned for this year, Freddie and his dad will also be completing a 150km trip by mountain bike over the Atlas Mountains in Morocco in August.
Further details of the even can be found at:
Web - www.dogartauction.co.uk
www.justgiving.com/fundraising/freddiebike
Instagram - @dogartauction
Email – mail@dogartauction.co.uk
About Guide Dogs
The Guide Dogs for the Blind Association is a UK-wide charitable organisation founded in 1934.
Guide Dogs provides independence and freedom to thousands of blind and partially sighted people across the UK through the provision of guide dogs, mobility and other rehabilitation services. It also campaigns passionately for the rights of those with visual impairments. Guide Dogs is working towards a society in which people who are blind or partially sighted enjoy the same freedom of movement as everyone else.
Find out more about Guide Dogs at www.guidedogs.org.uk.