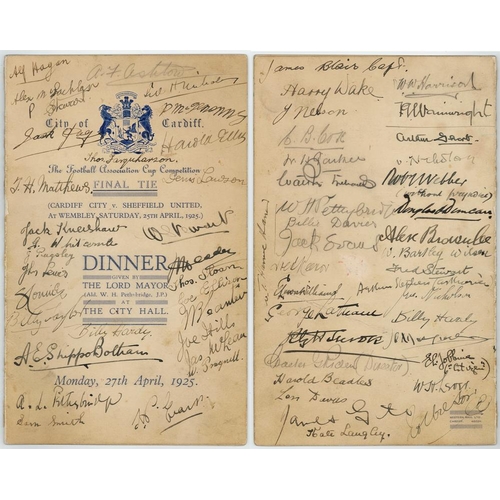 A historic collection of Cardiff City memorabilia was sold at Lockdales auctioneers on Saturday. The items more than doubled their estimate of £12,500, collectively fetching £28,000.
Around 40 items went under the hammer, with those that were deemed integral to Cardiff City's history being bought by the club itself. It is understood that the items, which had been gathering dust, were rescued from the old Ninian Park prior to its demolition eleven years ago.
The club bought all but ten of the items in the sale, including several items relating to their legendary FA Cup Final win over Arsenal back in 1927. Amongst these was the matchday programme from the event, which the club paid a substantial £1,100 for, and a pair of ticket stubs which they paid £360 for.
Other items bought by the club included wage books, payment records and a collection of ledgers dating between 1915 and 1972 which collectively sold for £4,000.
Lockdales' representative, Chris Elmy, stated: 'Cardiff City were bidding strongly and they got the most important items', adding that the sale was 'arguably the finest collection of football memorabilia' that the auction house has ever dealt with, calling it a 'unique collection'.
The auction caused some controversy and concern amongst Cardiff City fans when it was announced. Many of the fans regarded the items as integral to chronicling the history of the club and were concerned about where they might end up.
Once the auction catalogue was released, the club's board recognised the significance of the items up for sale and the owner, Vincent Tan, subsequently authorised funds to secure the purchase of the most important items so that they could return to the club.
The items formed a collection owned by Richard Shepherd who, following from the initial controversy, attempted to remove the items from sale but was unable to due to the terms and conditions. It was reported that officials from the club had been involved in efforts behind the scenes to ensure that the items would be kept in Cardiff.
Shepherd is reportedly pleased that his collection will remain mostly intact and, being that they were bought by the club, has decided to wave payment for the ledgers and the original lease and contracts.
The club plans to catalogue all the items, with assistance from Glamorgan Records, and come up with a long-term plan for displaying them for supporters to enjoy, which is what the fans had hoped for.