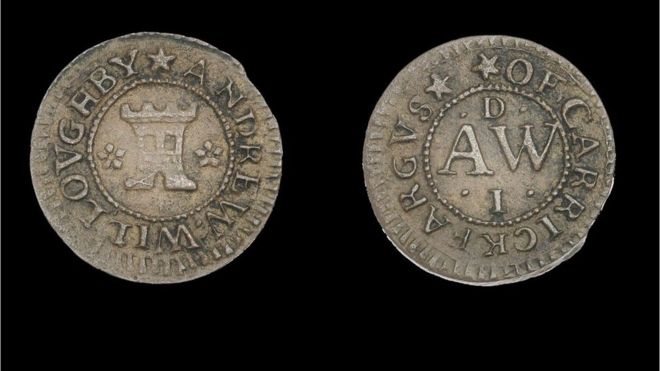 *Image From Dix Noonan Webb
A rare 17th century penny, struck in the Co Antrim town of Carrickfergus, has sold for a staggering £6,200 at auction. Expected to go for £240 - £300, the sale of the penny, at more than twenty times its estimate, has set a worldwide auction record for a 17th-century British trade token. The auctioneer stated that the item was "a very fine and very rare penny".
The coin was sold online to a collector from the United States in a tokens and historical medals auction by Dix Noonan Webb, specialists in international coins, medals, jewellery and bank notes. The record-breaking penny was not the highest priced item of the day, however, which was a 19th century Sheffield copper half crown which sold for seventeen times its estimate at £8,680. Another high priced coin on the day was a 19th-century sixpence, from a Birmingham workhouse, dated 1813, which sold for £4,464.
Other items in the sale included a collection of 18th and 19th-century horseracing memorabilia, including tickets and passes, which proved very popular amongst bidders and went mostly to private collectors in the UK. The highest price was achieved for a very rare Richmond Racecourse copper-gilt pass which, whilst estimated to fetch £200-£300, sold for £1,240.
Based in Mayfair, London, Dix Noonan Webb has been conducting its auctions solely online since the start of the Covid-19 restrictions. In contrast to the previously packed auction rooms, auctioneers have had to adapt and get used to standing alone in an empty room, taking online bids and commission bids, but are still finding that there's a great deal of interest in their sales from people bidding from the safety and comfort of their own homes.
Dix Noonan Webb are donating 5% of their buyer's premium from the sale to NHS Charities Together. Since the start of the Covid-19 lockdown, they have donated a fabulous total of £24,879 to the charity, supporting the excellent work of our healthcare professionals during this difficult period.
There's plenty of treasure to be found in our upcoming auctions, why not browse some of the upcoming auction catalogues on our website today and register to bid online for the items that take your fancy? If you're interested in something specific, you can even set up email alerts and search for keywords to cut down your browsing time.