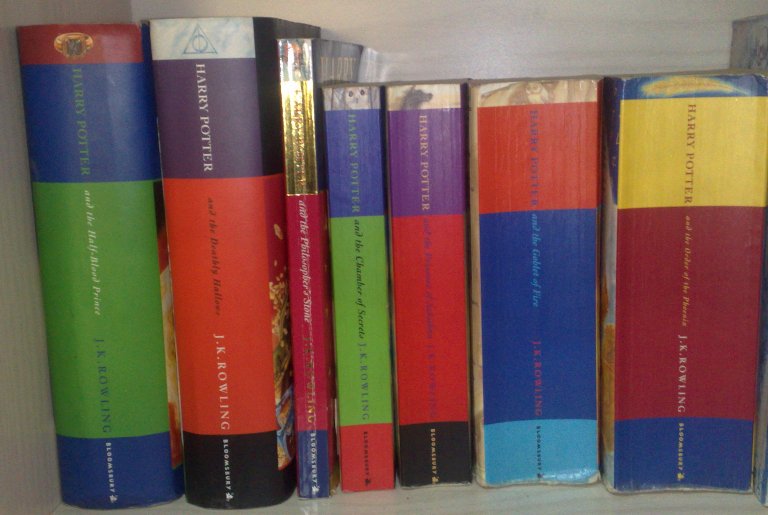 **Image Mo HH92 at English Wikipedia*
Being a businessman, Mark Cavoto spotted an opportunity to turn a profit when his daughter Holly, now 25, began collecting books from the phenomenally popular Harry Potter series by J k Rowling many years ago. A decade ago, they decided to list some of the older books from the collection on eBay. Within minutes, 3 copies sold for £9.99 each. Spotting the business opportunity, Mark immediately sourced the same books, searching the ISBN code, on Amazon and bought them for a penny each, plus postage. Over the years, he has bought and sold around 3000 books from the Harry Potter series in this way, turning a nice little profit each time.
He was buying around ten books a day for pennies when he struck lucky with a rare, signed first edition of the second book in the series, Harry Potter and the Chamber of Secrets. His daughter used to enjoy opening the jiffy bags when the books arrived and, one day, upon opening one, she stated "this is no good, it's got ink on it". She carried on opening the other packages before returning to the 'damaged' book. Upon closer inspection she stared at her dad and said, "oh my God, it's been signed by J K Rowling and it's a first impression!".
Although he thought she was joking at first, he soon realised the book was indeed signed by the author and was a rare hardback first edition of the book that was originally published in 1998.
This was not the first time that Mark has been lucky with the Harry Potter books. He previously spent 1p on a copy of Harry Potter and the Philosophers Stone from the second print run, which went on to sell for £4,600 to an Australian dealer. He used this money to start his Partworks Collectibles business which helps collectors source the items they want.
The signed copy of the Chamber of Secrets sold for £2300 when it went under the hammer at Hansons Auctioneers in Staffordshire on Thursday. Jim Spencer, book expert from the auction house, stated that it was "a great result for an incredibly lucky online purchase".
Mark stated that he was "over the moon" with the hammer price, adding that "the kids can have a little bit more in their Santa stockings this year".
Mark currently owns around 1500 books from the Harry Potter series and, who knows, he may even strike lucky again in future. The auction house that sold Mark's book stated that they have had "phenomenal success with Harry Potter books this year", adding that they are getting "around 50 emails a day from people who think their copy may be valuable".
With a rare first edition of the first book selling at auction for £57,040 in Derbyshire back in October, it's definitely worth a rummage on your bookshelf!