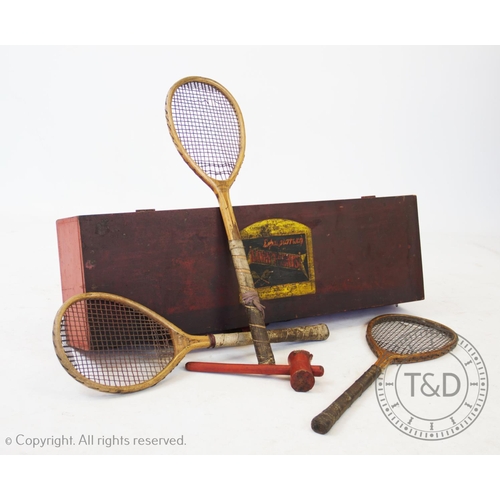 On Saturday a Sphairistike Lawn Tennis Box with contents, including three rackets made in 1874 exceeded all expectations when it went under the hammer at Trevanion & Dean.
The set, which was discovered in the attic of the historic Edge Hall in Malpas, is an exceedingly rare artefact indeed. comprising of a standard original first box manufactured by French & Co, containing the original red mallet, a net and three rackets. This set is desirable for a couple of reasons, firstly it's Notability for its role in shaping the modern game of tennis and secondly for its rarity.

This was the standard original first box manufactured by French & Co, which is smaller than the slightly later "Extra Large Box". It measured at 36 x 12 x 6 inches. The painted red box had a carrying handle through which a rope passed and was knotted behind the holes inside. The lid was secured by hooks and eyes and supported by original red cloth straps when opened.
While the game forms an undeniably important part of tennis history, original sets are extremely rare to come by. A full set exists in the Wimbledon Tennis Museum, and part sets pop up in auction only on occasion. When they do, they often generate huge interest amongst tennis enthusiasts and collectors'.
This beautiful original set was in nice condition for its age and attracted the attention of numerous bidders who battled it out in the room, over the phone and online to try and own it.

The outer label in red and black on gold paper had an illustration of Wingfield's net and to the lower left a pair of crossed rackets and a ball. Sphairistike written in script meaning "skill in playing ball" from the ancient Greek, together with the term soon widely adopted Lawn Tennis is central. To the outer edges – "The court can be erected in five minutes and need never be taken down, as it is made to stand all weather. The bats, however, must be brought into the house, as they are liable to damage". Inventor's Agents. Messrs French & Co, 46 Churton Street, London.

The inner white paper label contained an advertising list of available equipment and prices in black script. The royal crest and maker's details were accompanied by a cash-only statement! Listed are sets, shoes, tape measure, seats, bats etc.

Amongst the contents are the original red mallet, a net and three rackets. The rackets supplied for Sphairisike box sets were made by Malings or Jeffries, in symmetrical form like a rackets racket or badminton racket. The three included within this set were all stamped Henry Malings and were all similar with a ¾ length grip. All three were lighter than later rackets measuring 27" in length and 8" across the width of the head. These dimensions are the same as Sphairistike rackets known to exist today. The rackets have been used and were found with the Spharistike box. Each racket weighed slightly differently from 10 ounces to 12 ounces. In November 1874 Sphairistike rackets changed to a heavier weight with an asymmetrically shaped head. It was therefore concluded that these rackets dated before the change i.e. prior to November 1874. Although not stamped Sphairisitke we may conclude these rackets were produced during 1874 prior to the shape change. Either slightly different rackets of that period or non-stamped Sphairistike rackets.
There was fierce competition for the set, bidding originally rose in increments of £500, but when it reached £10,000 further bids increased by £1,000 until the hammer finally fell at £17,000! In a frenzied three minutes, the highest bidder in the room was pleased to become the new owner of the Sphairistike Lawn Tennis Box and its content beating the bidder using our Easy Live Auction platform to get their bids in.