Just imagine opening a barn door and finding this 1938 Rolls Royce.
What if you cast your eyes upon not just this pre-war black beauty but also a selection of vintage Land Rovers, three coaches such as this Bedford Bus, a pair of ambulances like this Bedford J1 and more than one hundred historic stationary engines? It would seem this latest barn find is the stuff a petrolhead's dreams are made of!
Who better to bring this lifetime collection under the hammer than John Goodwin Auctioneers? They are delighted to be offering this Graham Tyler vehicle and stationary engine collection for sale in their auction on 25th May. The sale will start at 10:00 broadcasting live and also as a ticketed in-person event held at Three Counties Showground, Malvern.
The 1938 Rolls Royce is reputed to have been the official transport of the Belgium ambassador. Sadly, it fell into enemy hands, being requisitioned by the Nazis in 1939. It was then repatriated home to the UK after the war. It is believed that this truly historic vehicle was re-converted to right-hand-drive before it was registered here in the UK in 1953.
If it's four wheels you fancy; there are also other vehicles available. This 1950 Daimler Lightweight 15, and this 1937 Hillman are just two of the "oldies but goodies".
This tennis themed Austin Mini Advantage is also consigned to the sale. There are even some newer vehicles to include this 59 plate Hyundai or this classic 1979 Citroen.
A 1974 Land Rover and this MK1 were also both extracted from the barn. Perfect for a restoration project is this Villiers Motor cart.
With over 100 stationary engines, there must be something for everyone. Rare marques are in abundance, including items such as this Everson, this Amanco, and possibly the only one of its kind, this 5.5 horsepower Warwick Eagle with Eagle Engineer Co Warwick plate.
Most of the engines available are considered to be in good collectable condition, whilst others offer an excellent opportunity for a restoration project.
Prefer something you can feel at home in, how about this Mercedes Benz Hymer campervan?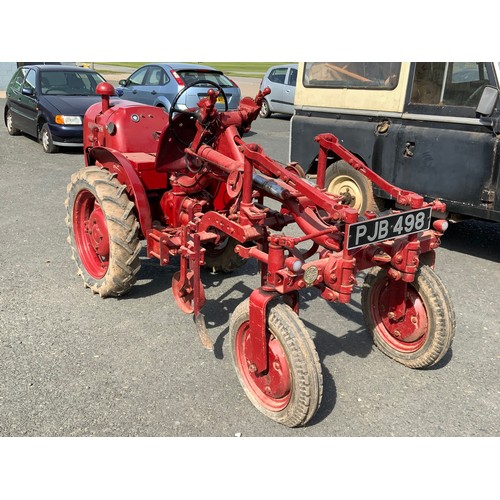 For the agriculturist, there are two tractors – this 1958 David Brown and a 1951 Fordson with a Perkins 6.
If you're more at home on two wheels – there is a 1957 BSA 250cc Motorcycle and a selection of vintage push bikes such as this unusual hoop frame bicycle.
There are a plethora of miscellaneous items, including benches, a butter churn, an extensive collection of Tilley & other lamps such as this storm lamp in the original box and a WW1 Trench generator set.
This John Goodwin Sale is sure to go off with a bang. View the full catalogue here or register for an account to drive (or tow) away your dream car!