June is over halfway through; the end of the month will be here before we know it. Many people will be excited at the upcoming temporary reprieve from school runs and rain!
George Beale and the team at Charterhouse Auctioneers & Valuers are looking forward to an incredible array of classic motorcycles going under their hammer on June 30. The specialist sale will be running both live online and in person. Viewing will take place on June 29, a day before the auction. The viewings will be held in Sparkford, Somerset, at the Haynes International Motor Museum.
George Beale said: "The market for classic and vintage motorcycles continues to remain strong. "They also have great appeal from collectors in Europe and other countries, as unlike cars; there is no steering wheel on the wrong side!"
But what beauties are revving to go under the hammer?
Indeed, the bike with the highest estimate is a 2018 Manx Norvin. Estimated at £43,000 - £45,000 utilising a genuine, original 1961 Norton Manx frame, this bike is a natural beauty. The engine is all new and was built by Phil Pearson about 20 years ago. This machine comes complete with a 5-speed Quaife gearbox and Omega pistons.
This 1962 BSA Rocket Gold Star only has 3,292 miles recorded on it and is estimated at £18,000 - £22,000!
This artisan built 500cc sprint machine is constructed in the style of the 1920's Brooklands Sprint Special. Built over a period of 4 years by the specialist engineer Carl Wadkin-Snaith – this beautiful machine has been exhibited at two different shows and received an award at each one.
This 1947 Vincent HRD Rapide with Watsonian GP sidecar is an original unrestored machine with matching numbers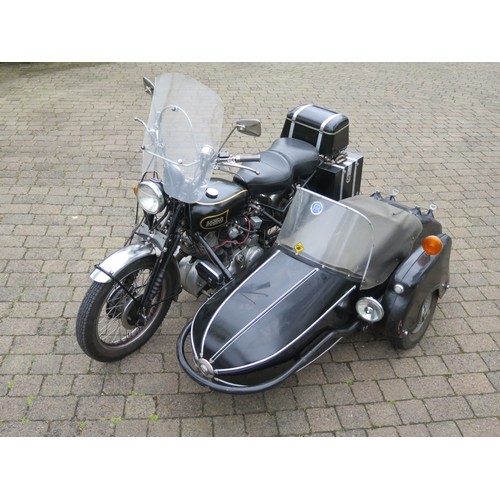 .
The Rapide was once the fastest motorbike on sale! The present owner has owned this fantastic item for 54 years and last rode it four years ago. It even comes complete with a Vincent Club Certificate of Authenticity.
This 1989 Honda NSR 250 MC18 was purchased by the owner's late son and has been unused for 14 years. This street-legal road-oriented bike is estimated at £4,000 - £5,000.
Another absolute beauty is this 1974 Ducati 750 Sport, estimated at £28,000 - £32,000.
This vintage yellow two-wheeler comes with a dual seat, which was an optional extra at the time. Owned for 46 years and having covered less than 26,000 miles, this Ducati has lived a pampered life. Sadly, the owner has decided to sell his much-loved bike as an injury has prevented him from riding it.
Last but not least is a 2019 Royal Enfield Interceptor - it bizarrely looks like it is among the oldest in the collection, but is in fact the newest motorcycle due to go under the hammer. In pristine condition and having driven only six miles – it is estimated to sell for between £4,000 and £5,000.
These beautiful bikes are joined by 90 more, going under the hammer in the specialist auction on Wednesday, June 30. Check out the entire catalogue here!