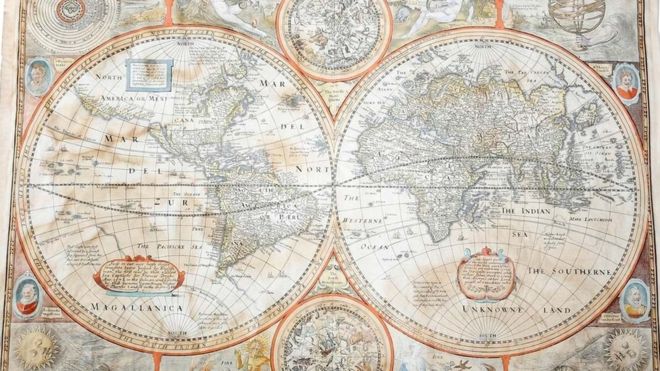 Image from Woolley & Wallis
When a 17th century map was dropped off at a branch of Oxfam, it could easily have been mistaken as rubbish. Luckily the staff at the charity shop recognised the potential age and value of the item despite it being in a shabby state, arriving in a wet and broken frame. They carefully used kitchen towel to soak up the water and dry the piece before showing it to a valuer. Despite being stained from damp, their efforts managed to rescue the map from ruin and restore it to a saleable state.
The valuer recognised the map, titled 'A New and Accurat Map of the World', as a piece by John Speed, one of the best-known English map makers of the early modern period. Dated 1626, the antique map is hand-coloured and features astronomical and astrological diagrams, portraits of famous explorers and allegorical figures.
Cheshire born John Speed took up cartography relatively late in life, after following in his father's footsteps working as a tailor in his younger years. His talents were recognised by royalty, with queen Elizabeth I granting him the use of a room in the Custom House to carry out his work. His maps formed the basis of all world maps until at least the mid-18th century.
What makes this map particularly interesting is the number of inaccuracies it has, including the depiction of California as an island and an image of the North American coastline which differs significantly from how we know it to be today.
Works of art specialist at Woolley & Wallis auction, Mark Yuan-Richards, said, ""There is a strong market in the United States for anything that pre-dates or relates to the discovery of modern America" and that the map "gives a fascinating insight into how cartography developed through exploration and the establishment of trade routes."
It was a successful US bidder who snapped up the map for £3500 plus buyer's premium, after being bid up by several dealers and collectors, at more than five times its high estimate of £600.
Woolley & Wallis' Salisbury branch sold the map on behalf of Oxfam in their Furniture, Works of Art and Clocks sale last week. Since the auction house waives its selling fees for charities, the entire hammer price went to Oxfam.
"The careful way it was dried means that despite its poor treatment it has raised a tremendous amount for Oxfam and gone to someone who will truly appreciate it for what it is", said valuer for Oxfam, Shelley Hitch, "luckily our staff recognised the potential age of the map when it was dropped off. It was in such a shabby state that it could easily have been thrown away".