A Papier Maché Snuff Box sold for 100 times its estimate, fetching £20,000 with Bamford's last month. Find out all about it here.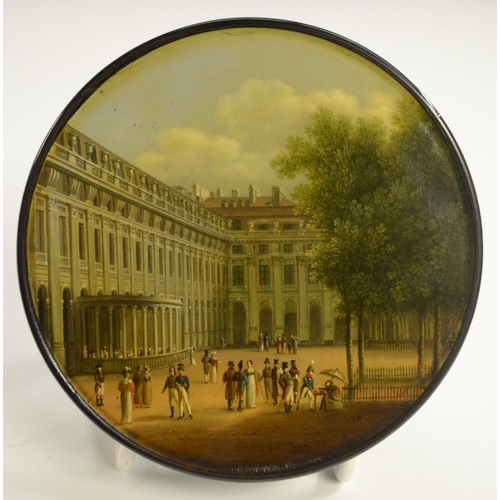 Snuff boxes have long been a very collectable item. Technically, any powder prepared for sniffing is called snuff but generally snuff refers to smokeless tobacco made by crushing tobacco leaves into a powdered form. Originally used by the indigenous people of Brazil who would grind the tobacco using a rosewood pestle and mortar resulting in the tobacco taking on some of the delicate woody aroma. Thought to have been brought to Europe by the Spaniards, it became a popular practice in England sometime around the 17th century during the reign of Charles II. Although, it was used slightly earlier than this is France and in Scotland, because of their contact with the French Court. By the 1700s snuff had been approved as the official tobacco product of noblemen and women alike.
Certainly, by the end of the 1700s miniature ornate boxes were being produced by artisans to keep the precious snuff dry. Often crafted as a bespoke item, snuff boxes quickly became an essential possession. They could be made in many materials from silver and gold to even horn or tortoiseshell and usually two sizes – one appropriate for carrying around a day or two's worth in one's pocket and one table-sized one for communal consumption. Even the shape of them varied; whilst the most common shaped tended to be square, trunk shaped or oval; indeed, snuff boxes were occasionally made in the shape of a shall. Certainly, the art did not stop there; antique snuff boxes were usually adorned with even more decoration; sometimes being painted with tiny portraits of their owner or the local landscape. True beauty and glamour could be found in the snuff boxes hailing from France; known as tabatières, these were often set with diamonds, and other gems in gold boxes!
These antique works of art tend to sell well at auction and have long been a very collectable item. One such snuff box went under the hammer with Bamfords Auctioneers & Valuers in their first post-lockdown sale in September. Conservatively estimated at £200-£300; the papier maché beauty in fact sold for not ten but 100 times the low end of the estimate! The early 19th-century snuff box was of the communal variety. With a black lacquered body and removable lid believed to be made by John Heinrich Stobwasser. Hand-painted on the lid is a beautiful scene of the gardens inside the courtyard of the Palais Royale, complete with intricate detail of people walking and the building originally built for Cardinal Richelieu.
The online competition really heated up during the sale, even the best of snuff boxes rarely sell for more than £2000 but certainly, it would appear the ultimate buyer could not resist the charms of the beautiful Brunswick box and its German craftsmanship.
Looking to increase your collection? Remember to set up your notifications so you can be alerted when new snuff boxes are added to one of the many catalogues consistently uploaded to the easyliveAuction platform!