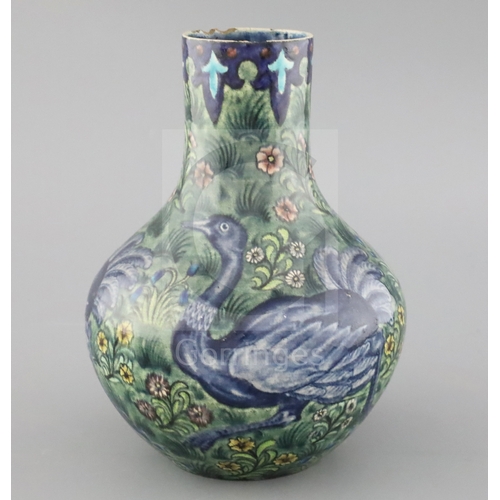 You may have watched the Antiques Roadshow episode where a woman was told the vase purchased for just £1 was actually worth between £3000 and £3500! The vase, bought by her grandfather, who was a ceramics potter himself and spotted the vase passing a junk shop in Shaftesbury, turned out to have been the workings of none other than William de Morgan! Never had anyone in the family suspected it would be valued so highly! Now, whilst this particular owner did not choose to part ways with the beautiful Arts and Crafts, blue and green, hand-painted vase, the same may not be said for you! Perhaps you have some vases of your own or would like to try your hand at trawling the local junk shops. Here we explore how you can spot and purchase your very own genuine William de Morgan piece!
Who was William de Morgan?
William de Morgan, born 16th November 1839, was an English potter, who also wrote novels and designed tiles. He designed furniture and stained glass for Morris & Co as a long-time friend of William Morris. He explored different methods of firing and studied the complex chemistry of glazing his pieces resulting in his rediscovery of a lusterware technique with a metallic and mirror-like reflective surface.
How will I spot one of his pieces?
William De Morgan developed and designed his beautiful pieces during the Arts and Crafts movement of the Many of William De Morgan's designs used fish, fantastical birds, and galleons as his most signature and popular motifs. The tiles he created were often styled based on medieval or Islamic designs and patterns. He is well known for a "Persian" palette: dark blues, turquoises, manganese purple, lemon, green and Indian red – we know this today as 15th & 16th century Iznik ware – such as this set of Arts & Crafts tiles.
Where can I find them?
Certainly, most of us are not as lucky as the lovely lady on Antiques Roadshow to have a piece of such value handed down through the family. However, items do go up for auction such as this stunning vase - other options, of course, include trawling local car boot sales, charity shops, and even eBay.
The market for Arts & Crafts Movement pieces, including those of William De Morgan has been rising steadily over the last few years with some of the most popular pieces selling for £10,000 or even more! So, whether you are looking to sell a much-treasured heirloom, or think you might have found a rare William De Morgan tile at your local boot fair – contact your local auction house to have the items looked at. Most auction houses do offer a free valuation and you never know – perhaps you'll get a real bargain or take home a tidy sum!