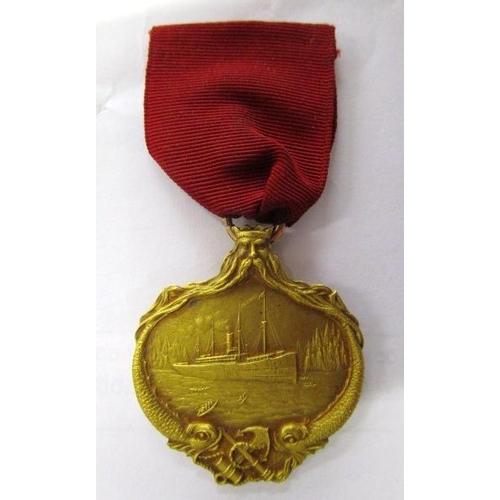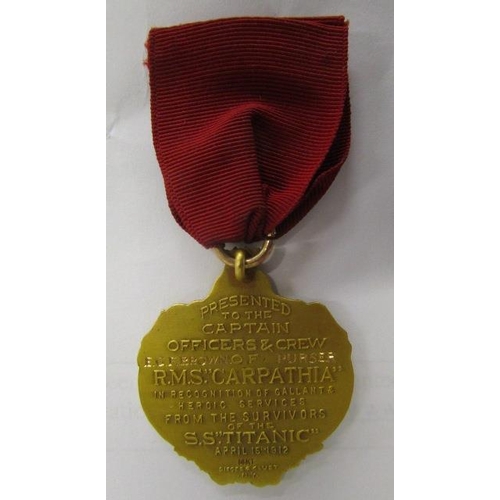 A bidding battle ensued on Wednesday 1st of August, when a gold medal that was awarded to a crew member of the RMS Carpathia, which rescued survivors of the infamous Titanic, went under the hammer with Bourne End Auction Rooms in Buckinghamshire.
The medal itself was a 14k gold medal on a red ribbon. It was given to Ernest GF Brown, who was the purser on board the RMS Carpathia, for his 'outstanding contributions to the survivors'. The medal depicts the Carpathia heading towards survivors of the doomed Titanic in their lifeboats, with icebergs in the background. Above is the head of Neptune with dolphins emerging from his beard, curving down to a crossed anchor and broken spar. The reverse read 'Presented to the Captain Officers & Crew of RMS Carpathia in recognition of Gallant and Heroic Services from the Survivors of the SS Titanic - April 15th 1912, 14k Dieges L Clust NY'
The medal was complete in its original Dieges & Clust black leatherette pasteboard box with cream satin lining and measured, 39mm long with a total weight of 16.4g.
Only 14 of these gold medals were issued by the Titanic Survivors Committee. They were given to the captain and senior officers on board the Carpathia. The junior officers received silver medals and the rest of the crew, bronze.
The recipient of this particular medal was just 27 years old when the Titanic sank. He had signed onto the crew of the Carpthia on 7th of February 1912, just over 2 months before the tragic accident that befell the Titanic. Along with this medal, Ernest G F Brown also received fifty guineas from the White Star Line and a coloured lithograph presentation certificate and bronze medal from The Liverpool Shipwreck Humane Society.
The medal had an estimate of £18,000 - £25,000, but surpassed this when a bidding battle began. Interested parties in the room, on the telephone and online battled it out until the winning bid of £45,000 came from the room.
Only a couple of examples of the gold medal have appeared at auction in the last thirty years. One in 2012, which sold for £41,000 and one in 1998 which sold for just under £8,000. The silver and bronze versions come up more often.
The Carpathia's rescue of the Titanic took over 4 hours and saw them rescue 711 survivors from 20 lifeboats. Ernest was tasked with clearing the alleyways of the ship to prevent obstructions that could impede the rescue of survivors. He then interviewed survivors, compiling passenger lists and reunited families, as well as informing and comforting relations of those that didn't make it.