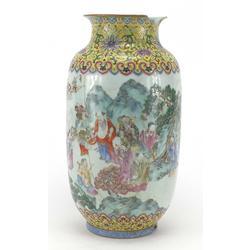 It's not too often that you hear a story like this, but when you do, it serves as hope that one day it could happen to you!
When Anne Beck popped into a valuation day held by Eastbourne Auctions, she was blissfully unaware that the trip could change her life!
Anne loaded her car up with some donations to take to charity along with some finger bowls she wanted to get valued at the auctioneers.
Amongst the bits for the charity shop was a broken vase, which she had inherited from her grandfather who had been an antique restorer. The vase had remained in its unrestored state and due to the damage had resided in her garage for the past 11 years.
Anne happened to mention the bits for the charity shop in her car and a member of staff asked to take a look. Eastbourne Auctions knew they were looking at something special when they saw the vase, but didn't realise just how special it was. The also knew the damage would deeply impact its appeal. They put an estimate of £80-£120 on the piece and she decided to consign it to auction.
On Thursday 10th of May the vase went to auction, where it surprised everyone. Bidders battled it out on the telephones and internet until the hammer fell at £70,000! The wily winning bidder was using Easy Live Auction and chose our £3 flat fee option, which saved them a tidy £2100 on internet fees!
It turns out, that some keen-eyed people had realised exactly what this vase was worth. The yellow, foot tall vase dated back to the 18th Century and depicted a scene from Chinese mythology. It had been made for Chinese emperor Qinglong.
Mrs Beck could not believe what the vase that had been gathering dust in the garage for 11 years fetched when it went to auction. She says she had to sit down and have a cup of coffee, she was in such a daze.
The vase sold to a German-based Chinese bidder, who will no doubt be extremely pleased with their purchase. It is thought that the vase in an undamaged condition would have been worth £250 to £500 million!
Jeanette May of Eastbourne Auctions said: "The vendor came in with these glass finger bowls and said she had a broken vase in the back of her car that she was taking to a charity shop.
Our assistant went out and saw it rattling around on the back seat and said 'oh that's nice.' He knew it was good but didn't realise just how good.
We are chuffed to bits for our client."
Mrs Beck is delighted with the money the damaged vase sold for and will be spending some of it on her children and grandchildren who will undoubtedly be pleased for her.