The chairs above go under the hammer with Thomson Roddick on January 16th 2019. Click here to view.
Last week we looked at whether restoring antiques was worthwhile or not, so we have decided this week to take a look at the restoration of soft furnishings like chairs and sofas.
Unlike harder, more durable materials, the soft nature of these furnishings and the fact they are used to sit on means they are unlikely to survive intact without receiving repairs and restorations over the years. The longevity of these antiques relies on people taking care to repair them over the years for future generations to enjoy.
Of course, as we mentioned last week, it's important that this is done with care and consideration. With these pieces, there are three stages to the process, repair, reupholster & finally, recover.
To begin the restoration process, you must make any repairs that are necessary to the piece of furniture.
Make a visual assessment of the piece. Assess the quality and condition of both the structure and the stuffing. Remove the old upholstery carefully to make a full assessment. In order to maintain the integrity of the piece, you will need to use authentic materials in the repair process. If the original stuffing was horsehair for example, then any repairs would need to be made with the same material.
The wood used in most 18th and 19th Century pieces tends to be strong and durable such as walnut and mahogany. Inspect any wooden parts and ensure they are all intact. As we mentioned last week there may be some sun damage to wooden furniture, this is not something that's necessary to try and repair unless it's extremely bad. If, however, the wood is coming apart repairs will need to be made sympathetically. Ensure you do research on how this should be carried out before undertaking this. If in doubt get a professional restorer to take a look.
There were different types of material used in antique furniture stuffing between the 18th and 19th Centuries, these materials were organic rather than foam which is largely used in modern furniture. Horsehair was used in good quality pieces, it was more expensive than alternatives but is also stronger and more durable. Many chairs and sofas used a mix of stuffing such as hay, cotton and horsehair.
Once any repairs have been made it's time to consider the recovering of the piece. The fabric chosen here is very important. Look for classic and timeless fabrics that are in keeping with the period of the piece. There are times when people wish to modernise a piece to fit in with their interior design, while this is not necessarily wrong, it can, of course, detract from the value of the piece.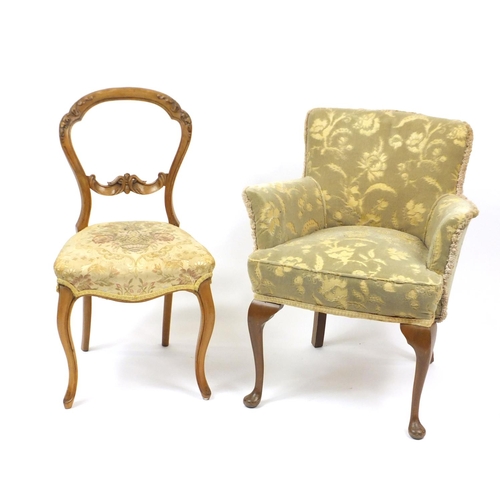 The chairs above go under the hammer with Eastbourne Auctions on January 5th 2019. Click here to view.
Use durable, good quality fabrics that will withstand many, more years of use. Where possible use classic period designs in keeping with the piece, or if they are not to your taste something classic and plain could work.
When correctly restored and repaired the chair or sofa could have another 200 years of life in it, meaning it can be enjoyed by many more future generations to come.